In Memoriam of a Scholar - Robert Younger
By
Margie Riddle Bearss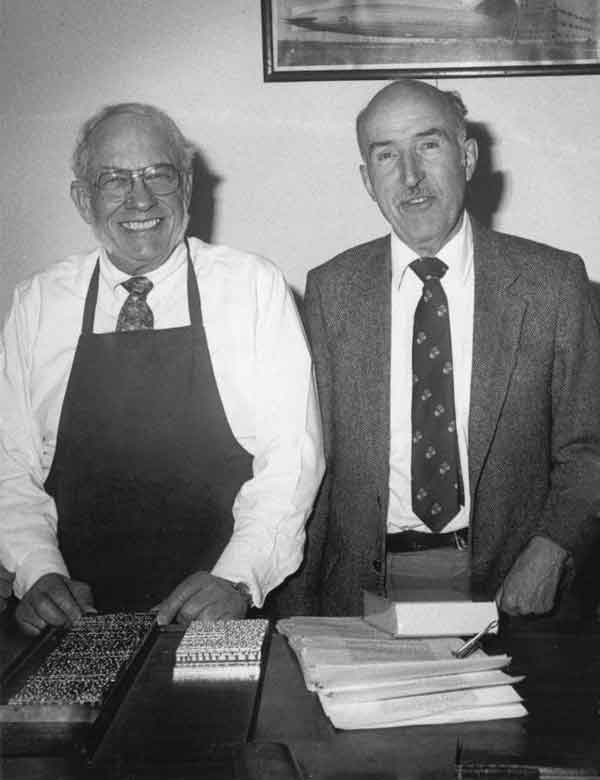 Robert Younger, publisher and owner of Morningside Press, pictured with Edwin Cole Bearss, friend and colleague. Robert published Edís three-volume set of The Vicksburg Campaign in 1985-1986, putting their stamp on the studies of all of the battles fought during the campaign for Vicksburg.
Photograph courtesy of Morningside Press
Robert Younger, long time friend and one who held high the banner of good sound research, is dead leaving behind a gap that cannot be filled.
He worked long and hard to save books of vital importance from oblivion. He published Edís three volumes of The Vicksburg Campaign thereby putting their stamp on the studies for the battles for Port Gibson, Raymond, Jackson, Champion Hill, Big Black and Vicksburg.
Well do I remember his first visit to our home in Vicksburg more than 45 years ago. He was studying Bledsoeís Battery at the battle of Raymond. We have been friends ever since and I have indexed and proofread for him.
A scholar, a publisher par excellence, and such a friend will not come this way again.
He deserves a standing ovation for his outstanding work.
Rest in peace, Bob.
Margie