Hundreds Trek 'The Hill of Death'
by Steve Sanoski
Published: The Vicksburg Post
Sunday, May 17, 2009
<click for the Vicksburg Post article>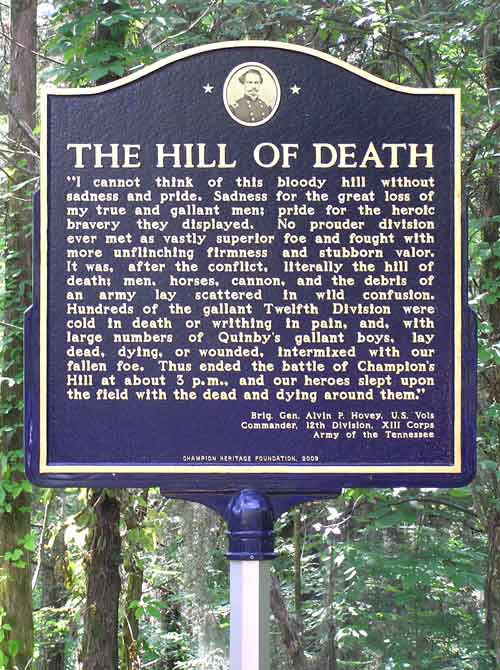 "THE HILL OF DEATH" read by Edwin C. Bearss, Historian Emertius, National Park Service

<click ► to play, click װ to pause>
CHAMPION HILL — Longtime battlefield buff Jack Opshinsky had seen just about every significant Civil War site relating to the Vicksburg Campaign before Saturday's commemoration of the 146th anniversary of the Battle of Champion Hill near Bolton.
"This is something I've wanted to do for a long, long time, and it kind of completes the story for me," Opshinsky said as he walked down the Old Jackson Road to the site of a new historical marker commemorating the battle. "I've often imagined what it would be like to see this site from on top of the hill, and wondered what those soldiers must have seen and been feeling as they made their way up here."
Opshinsky was one of roughly 200 Civil War enthusiasts who braved the muggy weather Saturday morning to get an exclusive look at the Old Jackson Road and Champion Hill battlefield, which are normally closed to tourists.
Along with the unveiling of the marker, a guided tour of the battlefield, multiple guest speakers and a re-enactment marked the commemoration of the 146th anniversary of the bloodiest battle in the Vicksburg Campaign.
Union Gen. Alvin P. Hovey — whose likeness and account of the battle adorn the new marker — called the hill for which the battle is named the "hill of death." About 6,200 Union and Confederate soldiers were wounded, killed or missing following the one-day battle on May 16, 1863. The battle preceded by two days the beginning of the 47-day Siege of Vicksburg and resulted in 3,840 Confederate casualties and 2,421 wounded, dead or missing Union soldiers.
"It is without question the largest, bloodiest and most significant battle of the campaign," said Vicksburg National Military Park Historian Terry Winschel, one of the event's speakers. "There used to be an annual re-enactment here back in the 1980s, but the event eventually dropped off. There are about 2,000 acres of this site that are now preserved, and the hope is that it will someday be included in the national parks system and opened to the public."

Rebecca Blackwell Drake, author and historian, greets the crowd gathered on the grounds of the Champion Hill Missionary Baptist Church to commemorate the 146th anniversary of the Battle of Champion Hill.
Other guest speakers at the commemoration were Champion Heritage board member Rebecca Blackwell Drake, retired Brig. Gen. Parker Hills and Dr. Timothy Smith, Civil War historian and author of "Champion HIll: Decisive Battle for Vicksburg."
Opshinsky, a Vietnam veteran and retired crop duster, took full advantage of the rare access to the battle site. The Madison resident not only walked down the Old Jackson Road — a sunken road that served as the primary route between Vicksburg and Jackson — but also three others near the hill that he has read about extensively.
"It's remarkably preserved, and I really hope they'll do something with it that allows me to return again," he said.
---
Contact Steve Sanoski at ssanoski@vicksburgpost.com
Links: