Ribbon Cutting for Endangered Battlefield: Part II
by Rebecca B. Drake
Unlike the Battle of Raymond, which took place on a hot and dusty day during the spring of 1863, the battlefield ribbon cutting was held on a picture-perfect November day. Civil War historians, as well as citizens of Raymond, gathered on the historic battlefield to celebrate the purchase of the battlefield property.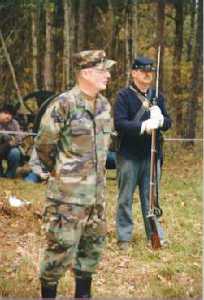 Colonel Parker Hills, Civil War Historian, recalls events of the Battle of Raymond

Colonel Parker Hill, Civil War Historian, addressed the crowd by re-creating the actual day of the battle. Standing on the battlefield with the sun shinning and a cool breeze blowing, everyone listened to the story of the dramatic events that unfolded in Raymond 135 years ago.

"If you picture yourself back in May of 1863," Hill began, " it was a very hot and dusty summer day. The Union corps of James McPhearson had been moving up from Utica. The problems of dust were so intense the soldiers had wrapped bandanas around their noses to try and stop from sucking in the dust from the brigades in front of them. Because of that, the corps had spread itself over several miles up and down the road now known as Highway 18.

"General John Gregg, a very aggressive man on the Confederate side had been sent down to Raymond with the instructions of hitting the right flank of the Union Army. When he got here, he presumed that he was facing a brigade of roughly 2,500 soldiers on the Union side. Since General Gregg had 3,000 men, attack seemed to be the thing to do. Unfortunately, for the Confederates, there were roughly 10,000 Union soldiers instead of 2,500. General Gregg never stood a chance with his attack. Still, he placed two good regiments along the side of the road. These units were comprised of the two main units who fought here, Tennessee and Texas.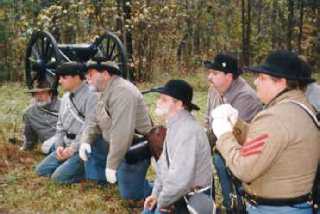 Stanford's Mississippi Battery mesmerized by Col. Parker Hill as he recalls the Battle of Raymond
"Most of these troops had been captured at Fort Donaldson and spent some time as prisoners of war. They had also spent a lot of time as veterans in combat. They were not at all anxious to be taken prisoner again so they were ready for a good fight.
"The battle opened up at 10:00 a.m. on May 12, 1863, out on the Highway 18 area. It slowly spread to the ground where we are standing today. As the Union troops were attacking from as far away as 14-Mile Creek, the Confederates could tell that they were in dire straight because of their inferior number. With 3,000 mean facing 10,000 Union soldiers, the fate of the Confederate Army was pre-determined.
"Still, the fighting progressed almost all day long and didn't end until about 4:00 in the afternoon. This particular part of the battlefield where we are standing was occupied by the 10th & 30th Consolidated Tennessee regiment.

Pat Alford of Philadelphia stood at attention as Union Guard
Wallace McMillian of Jackson stood at attention as Confederate Guard

The unit was commanded by a tall, handsome, red headed fellow named Colonel Randall McGavock. McGavock's men had been off on the Gallatin Road - now known as Dry Grove Road - and were brought back around to this particular ridge to plug the gap. You can picture them on a hot, dry day. They had already marched from down town Raymond and made it as far as the Gallatin Road. As they approached the area, they were well aware that fierce fighting was going on. As McGavock's men took their places in the ravines and prepare to charge over the ridge, many a soldier said a final prayer and thought about his wife, mother or sweetheart.

"As Colonel McGavock's men prepared to charge, he looked off to his right and saw the 41st Tennessee pulling back. He knew if he pulled back, this entire force of the Confederate line would fold. He could not retreat so he prepared to charge. As he looked off toward the front, a slight breeze came up and blew some of the dust and smoke of battle away. It was then that the Union army, some 700 yards away, was able to see McGavock and his men. They turned their artillery guns and fired. Even though he was dramatically outnumbered, Colonel McGavock ordered his men to charge.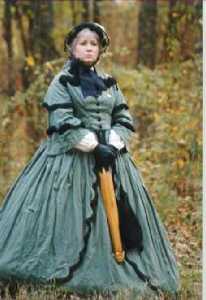 Period costumes added a sense of authenticity to the special event
"McGavock always wore a long cape with a bright red silk lining. He would flip this cape back so the men could see the bright red silk lining and know this was a symbol to follow. When he flipped back this cloak, he made himself a perfect target on the battlefield. The soldiers of the 7th Missouri on the Union side, an Irish regiment who spoke mostly Gaelic, opened fire and McGavock was shot dead almost immediately. Still, his men continued down the ridgeline into the 14 Mile Creek bottom and drove back the 7th Missouri. As they continued to fight, they observed that the other brigades had begun to pull back. Only then did the 10th-30th Tennessee move back.
"Colonel McGavock was buried on the battlefield where he fell in an unknown place somewhere near where we are standing today. A young orderly, Griffin, who was with him during battle, was taken prisoner of war but remembered where his commander had been buried on the battlefield. He came back to McGavock's grave and helped to move the body to the Raymond Cemetery. His family later came down from Tennesse and took his body back to the family's ancestral home near Nashville and buried him there.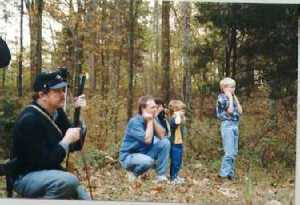 Youngsters hold their ears as Civil War cannons prepare to fire
As a soldier reminiscing the Battle of Raymond, Colonel Hills stated that two elements were a key element to the battle: surprise and flexibility. General John Gregg surprised General McPhearson and put up an all day fight. General U.S. Grant used the element of flexibility by changing the movement of his army from Edwards to Jackson. The burning of the City of Jackson and the march back to Vicksburg ultimately sealed the victory for the Union forces.
"The Battle of Raymond was a very important part of the Vicksburg Campaign," stated Hill. "This piece of ground where we are standing today, is a very important part of the Battle of Raymond. Hopefully, this will be just the first of many stepping stones to preserve Raymondís entire battlefield."
Photographs by James and Rebecca Drake
Home | Grant's March | Gregg's March | Order of Battle | Commanders | Soldiers Who Fought | Diaries & Personal Accounts Confederate Cemetery | Historical Articles | Re-enactments | Book Store | Visitor Information
Copyright (c) Friends of Raymond, 1998 - 2002. All Rights Reserved.