On Saturday, September 29, three Mississippi authors will be on the grounds at Champion Hill signing books: Grady Howell of Madison, Elizabeth Joyner of Vicksburg and Rebecca Drake of Raymond.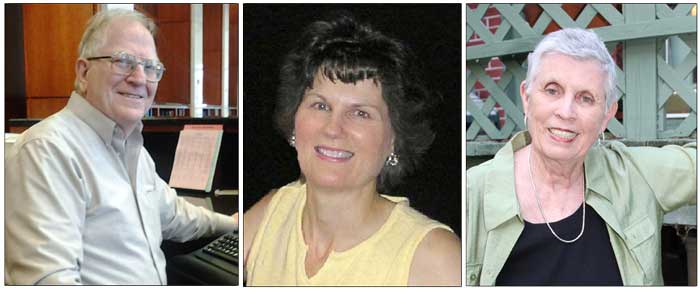 Grady Howell Elizabeth Joyner Rebecca Drake
Grady Howell Jr of Madison, is a retired historian with the Mississippi Department of Archives and History. He is the author of over sixteen non-fiction books, many referencing Mississippi history. One of the books "Military History of Mississippi 1803-1898, Including a Listing of All Known Mississippi Confederate Military Units," was complied with Dunbar Rowland (1908). Other popular books include, "To Live and Die in Dixie, A History of the Third Mississippi Infantry, C.S.A." and "Chimneyville: "likenesses" of early days in Jackson, Mississippi." Grady loves to be on the battlefields greeting the crowd and selling his wonderful array of books.
Elizabeth Joyner of Vicksburg is retired from the Vicksburg National Military Park where she served as Museum Curator and in other capacities for almost four decades. She is well know for her book, "The USS Cairo: History and Artifacts of a Civil War Gunboat" published in 2006 with a Foreword by Margie Riddle Bearss, former Mississippi Civil War author and the late wife of Edwin C. Bearss. Elizabeth will have her latest book, "A Field Guide to The Artillery of Vicksburg National Military Park" to sell and sign on September 29. The book is stunning and features many of the Military Park's artillery in color.
Rebecca Drake of Raymond is a retired musician who began working for battlefield preservation in 1999. Her first book was "The Battle of Raymond and Other Collected Stories (copyright 1999 and second edition in 2000) and is now out of print. Some of her other books that detail the Vicksburg Campaign are; "My Dear Wife: Letters to Matilda ~ the Civil War Letters of Sid and Matilda Champion of Champion Hill"; "Collected Stories of the Vicksburg Campaign"; "Leaves: The Diary of Elizabeth Meade Ingraham" and "The Diary of Darwina Loud." Rebecca retired from writing in 2014 after dedicating her last book, "Owl Roost Plantation, Bovina, Mississippi, The Civil War Letters of Samuel and Caroline Townsend." For the past decade Rebecca has worked to interpret and preserve the Champion Hill Battlefield.