Champion Hill
Monument Unveiled Honoring
Edwin C. Bearss
By Rebecca Blackwell Drake
On May 3, 2019, a large crowd of friends and Civil War enthusiasts, including a tour group with the American Battlefield Trust, gathered at the crossroads on the Champion Hill battlefield for the unveiling of a large monument honoring Edwin C. Bearss. Ed holds the reputation as being the nation's leading Civil War historian who, in earlier years, began the mission of preserving the Champion Hill Battlefield located 25 miles east of Vicksburg.
James Lighthizer, President of the American Battlefield Trust, welcomed the crowd and remarked on Bearss' lifetime achievements. Everyone present received a colorful souvenir program honoring on Ed who is already considered to be a "walking legend." He is still giving battlefield tours at the age of 97. Remarkable in every way.
Attending the event in Ed's honor were Sid Champion, fifth generation to own a portion of the battlefield and Rebecca Drake, author and historian with the Champion Heritage Foundation. Thanks to the Champion Heritage Foundation, nine historic markers have been placed on the historic battlefield known to be the decisive battle of the Vicksburg Campaign.
PROGRAM NOTES
"EDWIN C. BEARSS—Badly wounded by Japanese machine gun fire in the Pacific during World War II, Ed Bearss spent 26 months in military hospitals, where he devoted countless hours to reading history. A Montana native educated in a one-room schoolhouse, Ed began his long and storied national Park Service career in 1955 at Vicksburg National Military Park, where he helped locate the sunken Union gunboat USS Cairo. From 1981 to 1994, Ed served as chief historian for the National Park Service.
"Since his retirement in 1995, Ed has continued to give lectures and battlefield tours, writing and appearing on numerous TV programs, including Ken Burns' The Civil War. Ed has received many honors, including the U. S. Department of the Interior's Distinguished Service Award. His dedication to battlefield preservation and Civil War history prompted the American Battlefield Trust to name its Lifetime Achievement Award after him, and he was its first recipient in 2001. In 2018, the organization rededicated the award and again presented it to the longtime trustee, who turned 95 that June.
"Today, the Trust is proud to unveil a monument in honor of Ed Bearss truly monumental contributions to teaching American history and preserving American battlefields, including his beloved Champion Hill."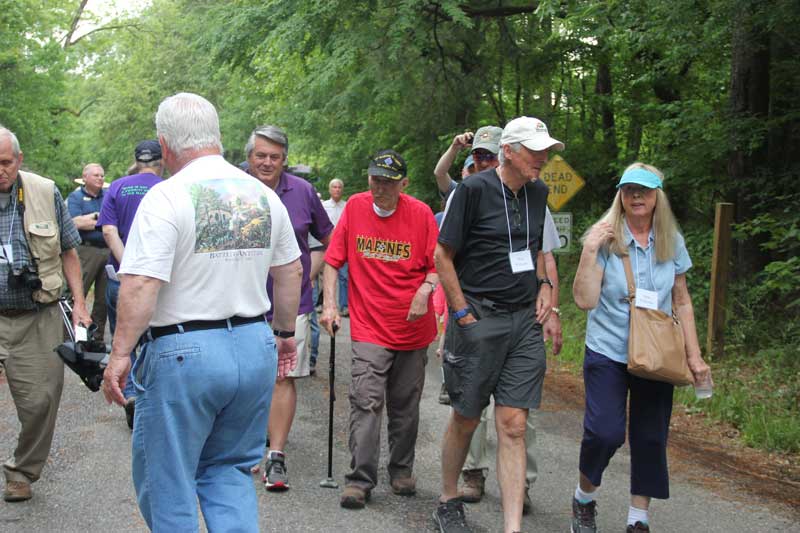 Ed, accompanied by the tour group, arriving at the momument dedication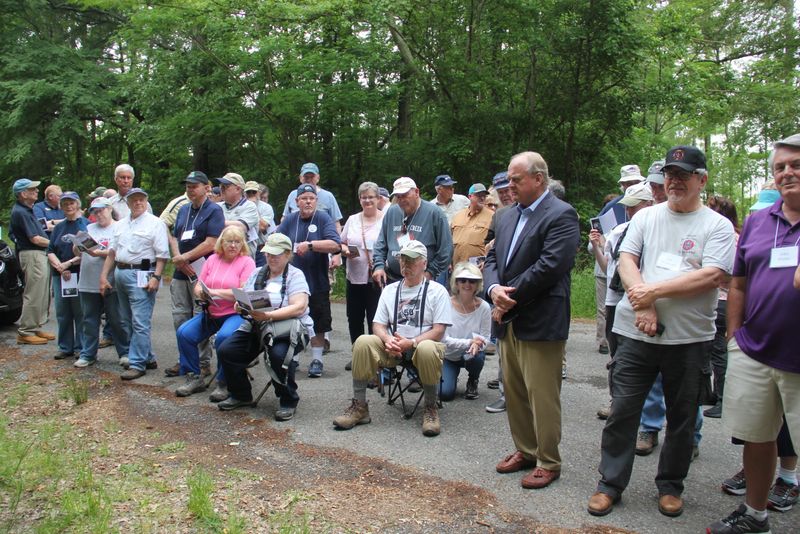 Large crowd greets Ed's arrival at the battlefield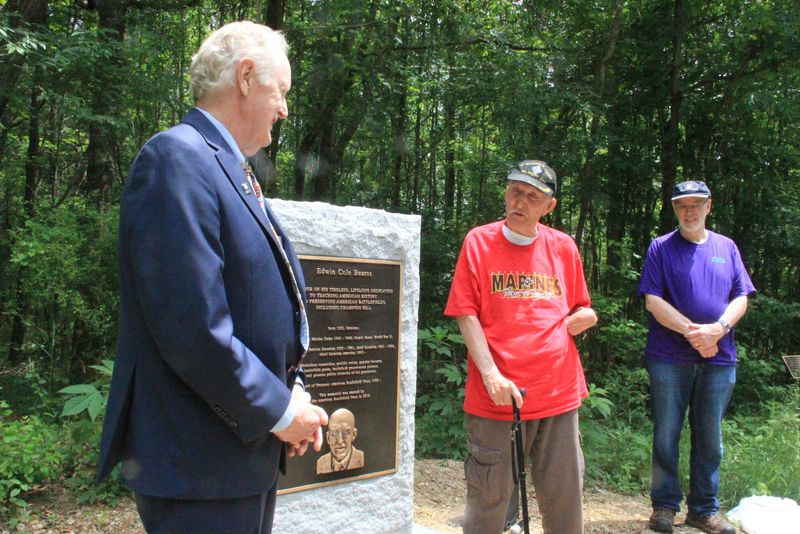 James Lighthizer, President, Ammerican Battlefield Trust, Ed Bearss & William W. Vodra, Trustee, American Battlefield Trust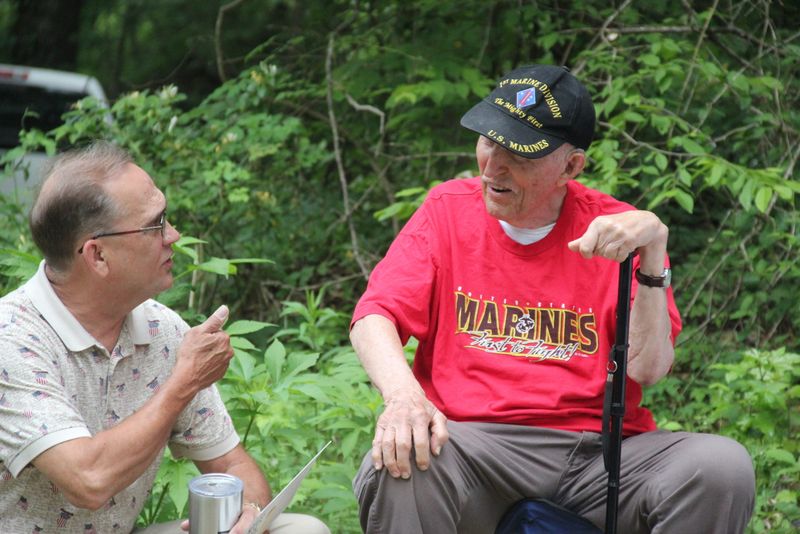 Sid Champion V enjoys chating with Ed
Photography by Rebecca Blackwell Drake