154th Anniversary Event Rained Out
New Historic Marker, "Bowen's Counterattack"
Placed on the Battlefield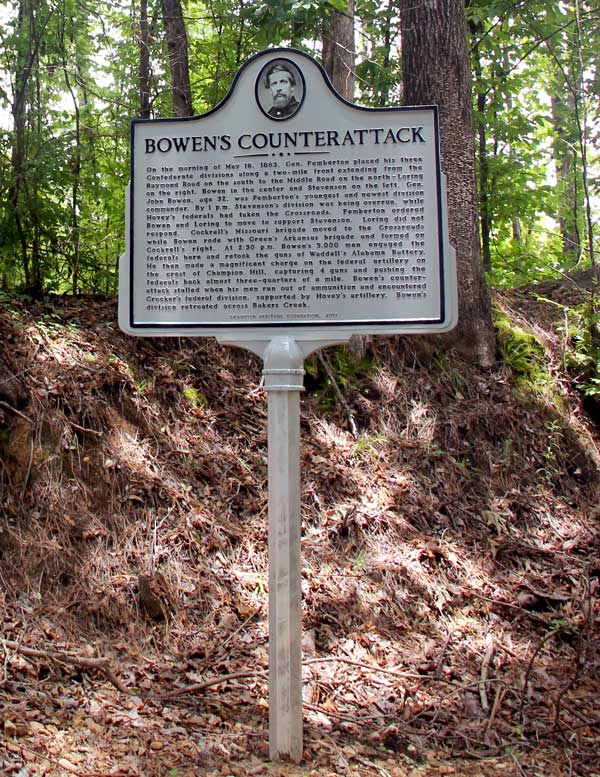 The rescheduling of the rained out 154th Champion Hill Anniversary event has yet to be determined. The Champion Heritage Foundation along with members of the Champion Hill Missionary Baptist Church are working to arrange a simple gathering—one that will feature a picnic–program–music–and stroll to the Crossroads.
In the meantime, the new historic marker, "Bowen's Counterattack" was permanently placed at the Crossroads next to the 2013 marker, "The Fight for the Crossroads." To date, the Champion Heritage Foundation has placed nine historic markers on the battlefield.
"Bowen's Counterattack" marker was partially funded by the COL Egbert Jones Camp 357 from Huntsville, Alabama. A special thanks to Gregg and Nathan Miller for spearheading these efforts. Had the event taken place as scheduled on May 20th, members of Huntsville SCV Camp 357 would have had the honor of unveiling the new marker.
Continue to visit the website for more updates. We hope to set a new date this fall or possibly early spring. Stay tuned.