Brig. Gen. Stephen O. Burbridge, U. S. Army, commanding First Brigade, Tenth Division
HDQRS. FIRST BRIG., TENTH DIV., THIRTEENTH A. C.,
Camp, Rear of Vicksburg, Miss., May 24, 1863.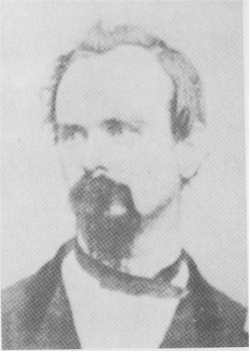 Next morning, May 2, by order of General McClernand, I took the advance with my brigade, and proceeded cautiously into Port Gibson, where I had the pleasure of raising the Stars and Stripes to their wonted place of honor. The rear guard of the enemy were retreating out of town, having fired the bridge over South Fork of Little Bayou Pierre. I had the Seventeenth Ohio Battery to open upon them, but they succeeded in making good their retreat, as we had no means of pursuit.
We remained at Port Gibson until the morning of the 3d instant, when I was ordered to take my brigade to the hills back of the town, as there were symptoms of the enemy coming in on our rear. Remaining in that position until I was satisfied there was no enemy near, I took up my line of march toward Willow Springs. Late in the afternoon we crossed Big Bayou Pierre and went into camp at this place until the morning of the 7th instant, when we marched to a point half a mile beyond Cayuga, where we remained until the morning of the 12th instant, when we countermarched to Cayuga; thence bearing left in a westerly direction for about 10 miles, where we encamped for the night in line of battle near Fourteen-Mile Creek, 6 miles from Edwards Station.
Next morning (13th) we marched back to the Jackson road, a distance of about 6 miles.
Here we remained until the 15th, when, following General Blair's division, we marched to Raymond, about 15 miles, getting into camp at 9 p.m.
At daylight on the 16th, we marched out on the Vicksburg road toward Edwards Station, my brigade being in the advance. About 6 miles out from Raymond we came upon the enemy's pickets, when our line of battle was quickly formed, with heavy skirmishing parties in front. The batteries were thrown into position and shelled the enemy's forces very successfully. We skirmished along gradually, driving the enemy before us, while our main force followed along the road until we reached a water-course, across which the bridge had been broken down by the retreating enemy. Finding the enemy was in retreat but a short distance ahead, and apprehending they might avail themselves of some prominent hills, from which they could sweep the plain we were in, I pushed my brigade rapidly ahead until the skirmishers began to find it a hot contest, and as we rose to the crest of the hill had abundant reason to congratulate myself upon my speed, as the enemy had rallied and planted their battery on the second hill, not having had time to form on the first. They poured in a most terrific fire of shot, shell, grape, and canister, but my men were well protected by the crest of the hill, and my sharpshooters kept the enemy so much annoyed they had to abandon some of their guns. After repeated application to General Smith for re-enforcements, both of infantry and artillery, I finally succeeded in obtaining the Nineteenth Kentucky and Seventy-seventh Illinois, of Colonel Landram's brigade, who were ready and impatiently awaiting orders to move forward. I also obtained four guns of the Seventeenth Ohio Battery, which had been preceded by part of the Chicago Mercantile Battery, both of which did admirable execution.
Receiving orders from General Smith through one of his staff to halt, I did so, holding the position I had gained. It was my conviction at the time, confirmed by all I have learned since, that, properly supported by General Blair's division, we could have captured the whole rebel force opposed to us, and reached Edwards Station before sunset.
From prisoners taken next day, we learned that after the loss of General [L.] Tilghman, who was killed by a shot from our batteries, they had attempted to run off their artillery; but failing to do so, abandoned it, since which time we have obtained the guns, twelve pieces. Also the whole rebel force retreated in great disorder, it being impossible for the officers to again form their men into line.
The night after the battle the men lay upon their arms, hourly expecting an attack. The night passed quietly, however, and at daylight we moved on in line of battle, but soon had abundant evidence that the rebels had skedaddled most hurriedly, leaving arms, ammunition, &c., strewn by the roadside. Forming again in column, we moved on through Edwards Station without further interruption.
As we approached Big Black River, heavy firing became very audible, and I received orders from General Smith to move rapidly forward and take position on the left of General Osterhaus' division. This done, we were ordered forward in line of battle. Arriving at the edge of the forest through which we had advanced, I found we could not advance across the open field without changing front, as the enemy would have an enfilading fire upon my line. I rapidly changed front, so that my left would cover the enemy's works on the left of the cotton-gin. I then ordered a charge across the field, which was gallantly executed. When my skirmishers arrived within 200 yards of the enemy, a white handkerchief was displayed on their intrenchments, upon which Lieutenant Conover, my acting assistant adjutant-general, and Captain Keigwin, acting aide, who were in advance of the skirmishers, rode forward and received the surrender of the forces and colors of the Sixtieth Tennessee Regiment (rebel), under command of Lieutenant-Colonel [N.] Gregg, and reported them to me. About the same time our forces took possession of the whole line of the enemy's works, they retreating across the Big Black River and setting fire to the bridge.
I am, sir, your obedient servant,
S. G. BURBRIDGE,
Brig. Gen., Comdg. First Brig., Tenth Div., Thirteenth A, C.
Capt. J. HOUGH,
Assistant Adjutant-General, Tenth Division.