Champion Heritage Foundtion to Close
By Rebecca Blackwell Drake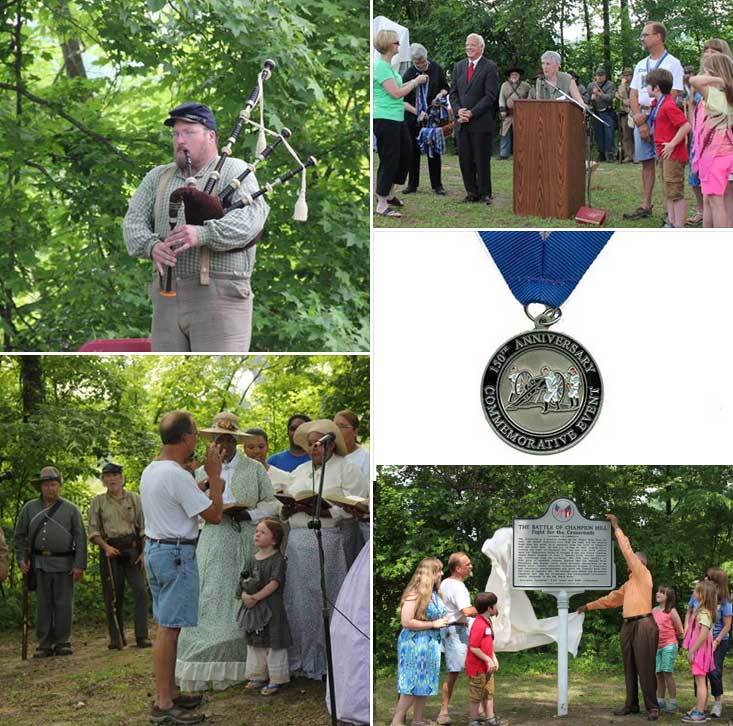 CHAMPION HERITAGE FOUNDATION TO CLOSE: For the past 20 years, Sid Champion and Jim and Rebecca Drake, have spearheaded the Champion Heritage Foundation's bi-yearly events held on the Champion Hill battlefield east of Vicksburg. Since 2005, the foundation has placed 9 historic markers on the Champion's portion of the battlefield and, the last one (#10 "The Burial Trenches") is in the making. The foundation's two decades-long passion for battlefield interpretation & preservation have, without doubt, been fulfilling – especially in terms of research.
The Champion Foundation was established in 2005 by a handful of volunteers. The first event featured the dedication of "My Dear Wife, Letters to Matilda—The Civil War Letters of Sid and Matilda Champion," edited by Rebecca Drake and Margie Bearss, famous Civil war historian and wife of Edwin C. Bearss. Approximately 75 people attended the premiere event.
In 2013, approximately 400 people came from all across America to attend Champion Hill's 150th Anniversary event. The guest speaker chosen for that all-important occasion was Bertram-Hayes Davis, the great-great-Grandson of President Jefferson Davis. During the program, Champion Hill Honorary Medallions were awarded to all in attendance who had ancestors who fought in the battle. Bertram won the hearts of everyone in the audience. In future years he would return twice more as "honored speaker." Also winning the hearts of the audiences through the years were the Lewis Family Gospel Singers. A special thanks to all of the volunteers who gave of their time and efforts for almost two decades. Thanks also to Clione Rochat of San Saba, Texas, who was the photographer for most of the events including the 150th Anniversary, and to Tim Waltman for the always providing the sound system.
The U. S. Government has now acquired hundreds of new acreage on the four-mile square battlefield. In future years, the government's acreage will be included as an extension of the Vicksburg National Military Park. The 9 (soon to be 10) historic markers the Champion Heritage Foundation placed on Champion property will hopefully remain for many years to come – something to enhance those who tour the famous battlefield.
The Heritage Foundation will always continue to support battlefield preservation in any way possible, always remembering that a soldier's greatest fear was NOT of dying in battle but of being FORGOTTEN. We will always remember both the Blue and the Gray and all whose lives were lost as a result of the pivotal battle at Champion Hill that ultimately led to the fall of Vicksburg.