Letters of Pvt. Ackless W. Geeslin


Company H, 22nd Iowa Infantry

Courtesy of Grady Howell, Jr.
Mississippi Department of Archives and History
Punctuated for Reading Clarity

Ackless W. Geeslin (24 June 1838 - 31 July 1923) was married to Mary Ann Kephart Geeslin. He is buried at Latham Cemetery, Latham, Butler County, Kansas.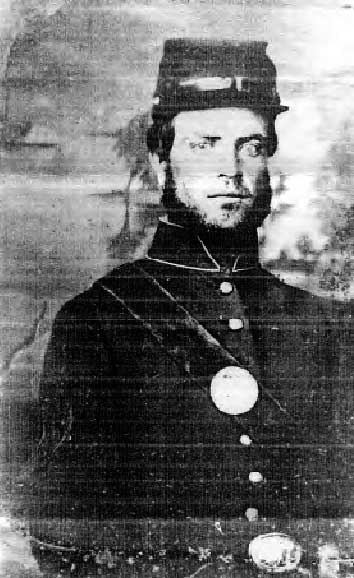 May 16 -- Three miles west of Raymond
I have had no opportunity of sending my letter out yet so I will write some more. I am still well and hearty. Good news. Jackson is ours, the Capitol of the state. O' we are playing smash down here. I tell you the poor rebs have got perfectly scared and just as soon as we open on them they run. We have tore up their R.R. for miles. Their troops can neither get to nor from Vicksburg. We have heard that Joe Hooker has whipped them out in the East and played smash. Generally the rebels acknowledge that Stonewall Jackson was killed and that they lost their 17th army corps. I do tell you sincerely the prospect is in my opinion brighter now than it has been at any time during the war. I do think the thing is coming to a happy close. P. T. has rejoined us again. He got up yesterday. He is pretty well. We will now move on slowly to Vicksburg after we rest today. It is now 8 o'clock and no order to march. I am entirely over my cold. We are 3 miles from Raymond. We have had 3 fights since we have been in Mississippi. Our battle was the first on Anderson's hill [Port Gibson area]. McClernand's Corp. The next was at this place Raymond.
May 18th – [Big Black River Bridge]
Well Mary Ann through the kind mercy of My Heavenly Father I again am permitted to write to you. We have been in another hard battle. We whipped the rebels all to pieces. We commenced on the 17 [May 16] and quit yesterday. We drove them about 6 miles. We killed and wounded and took prisoners about 6 thousand and 34 pieces of artillery. We are now at the Black River bridge [near Bovina.] The rebs had the strongest place here I ever seen. They had breast works 6 mile long of the strongest character but we our regt was not in the hottest of the fight. The point we held was not attached very strong. We were on the extreme right. Our brigade had some hard fighting. We charged their rifle pits and took a whole brigade prisoner. I suppose we lost about 1,000 men. O how good the Lord is. Let us Praise Him for His mercy endureth forever. I have not received a mark yet. The boys are all right. A. Cloud had his gun strap shot off but did not touch him. When I will get to send out this I can't tell. I think we will send letters from Vicksburg. I do think we will be in the city before 3 weeks. I was tickled at a Seceseh yesterday after the fight. We were looking at their fortifications. The Capt. asked him why they did not keep us out. We told him if we were in their pits the whole confederacy could not get us out. Yes says the rebel but you have the Almighty on your side. I think he told the truth. The prisoners all seemed to think we will whip them out at Vicksburg. They say their soldiers are discouraged and will not fight hard any more. Well I will not write any more today. Good bye. The Lord bless you.
May 19 -- [Outside the gates of Vicksburg]
I am well today. We advanced 4 miles toward Vicksburg last night. We are in 8 mile of the place. Our advance is in 4 mile of the place. You know I told Joe the rebs skedaddled from us. So they did but they concentrated on Champion hill 4 or 6 miles from Black River. They intended to bag our army but we tore them all to pieces. We drove them to the river. Drove them out of their fortifications and yesterday we took several thousand more prisoners. O I tell you we are making them git. We are all in good spirits. We slept last night in a fig tree grove. They are loaded with figs but they are not ripe yet. This beats any place for fruit I even seen in my life. We are cooking a lot of new apples. They are getting good to gook. Well, Mary Ann you will think I have been a long time writing this letter but I have had no opportunity of sending it out so I will just keep writing a little until I can send it out. I will quit for today.
May 24 -- [Union assaults on Confederate defense on May 22 resulted in heavy losses for the Union]
Dear Wife, I once more take my pen in hand to write. Thank our Heavenly Father I am well. Well, Mary we have been at Vicksburg fighting 6 days. One day we had the most dreadful fight ever fought. We must have lost 36 men. P. T. is wounded in both feet. Doctor Huffman in the right breast. John Davis bad in the hip. Allen in the arm. He is not got in yet. It is supposed he is a prisoner. Jake Pfaff in the leg. 5 of our corporals. 3 of our sergeants. Our lieut and both of the W[M]eads and Jerome Smart was killed. Will Hastings in the head. Shueg in the back. I have told you all you knew. Praise the Lord I am safe. The night of the battle I did not sleep a wink. I carried in the wounded all night. We will besiege Vicksburg now. Gen. Grant did not favor the charge we made. Well I am in a hurry. I must soon close. Tell the friends I will write the first opportunity. We have no mail privileges. Pray for me. Thank the Lord for his mercies.
A. W. Geeslin