Administering Last Rites at Champion Hill

Diary accounts extracted from:
"The Confederacy's Fighting Chaplain: Father John B. Bannon"

By Phillip Thomas Tucker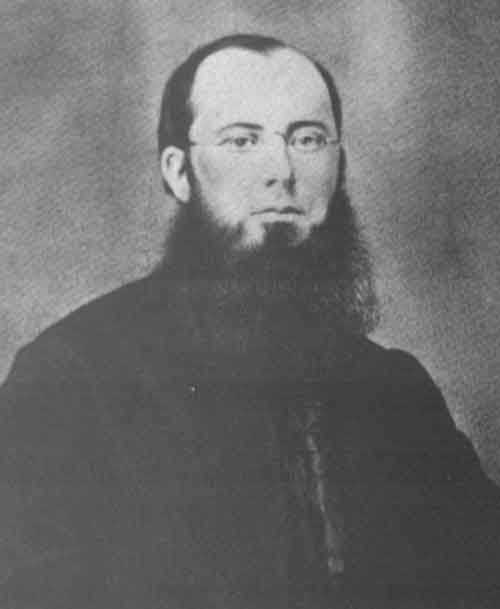 Father John B. Bannon was born in Ireland in 1829 and was ordained as a priest in 1853. Shortly after his ordination, he was sent to St. Louis, Missouri. Father Bannon was loved not only by his parishioners but also by the city at large which, by 1861, boasted of having the second largest Irish population in the Southern and border states. When the war erupted Father Bannon enlisted as Chaplain in the 1st Missouri Confederate Brigade. A Confederate veteran later described Bannon's actions on the battlefield during the war: "While his mission was one of peace, he became noted for his bravery in the field in attending the wounded and the dying in very exposed places. He was both a pious and practical man, and became a ministering angel wherever broken and bruised humanity needed help and consolation." At the close of the war Bannon returned to Ireland and resumed his priesthood.
Photograph from "The Confederacy's Fighting Chaplain: Father John B. Bannon" by Philip T. Tucker
One of the casualties during the Battle of Champion Hill was a Rebel gunner from Guibor's Battery named Private McGolfe. Suffering from a fatal wound but not yet dead, McGolfe was taken to a barn which had been converted into a field hospital. When Father Bannon went to minister to the dying, he found McGolfe lying on the ground in a foul mood — not so much because he was injured but because a fatally wounded Yankee soldier was lying beside him.
---
From the Diary of Father John Bannon
May 16-17, 1863
Strange to say, he was in his full senses, and kept roaring out, "Take away this Yankee, boy, I can't lie quiet here with this Yankee by me." I went up and spoke to him; he knew my voice, but his sight was gone; and on my mentioning confession to him, "Oh!" said he, "time enough for that. I'm not so bad as that goes to; I shall be right enough again in a day or two." No, McGolfe, I replied, you are dying. Your skull is split open, and your legs and arms are smashed; you cannot live out the day, and you must prepare to meet God's judgment.
McGolfe replied, "Well take away this Yankee: I can't make my confession with this Yankee close to me. He disturbs my mind: take him away!" I said, never mind the Yankee attend to your own soul.
The Yankee, I found, was a poor German, who understood no English: so I induced McGolfe to make his confession at once. I then went to the German and from the few words which I understood, I made out that the poor fellow was a Catholic, and recently enlisted. He was evidently in the best disposition, kissed fervently the crucifix which I held to him, and seemed intensely grateful at meeting with a Catholic Priest. I did therefore all I could for him, and went to see if any other cases wanted help…. [Father Bannon then addressed the surgeon in charge and asked if there were more injured he needed to see.]
Have you any here for me? I asked. "Yes," said the surgeon, pointing to one of the wounded. "I think he must be one of yours, for he is an Irishman." I stooped down to the man and asked if he was a Catholic. He was; and of such a regiment, such a company. He was shot through the bowels, and the bullet had broken his spine. He had not long to live. Why, I asked, I was with your regiment last night but I don't remember you. Were you with me, or how was it? "No, Father," he answered. "I knew you would be coming, and I watched to keep out of your way, for I did not wish to meet you." I remarked, You unfortunate follow! Do you see now how the devil deceives you; and how nearly he had you by the throat. The dying man replied, "Indeed, I was a fool, Father and I am sorry for it with all my heart."
He made a good end, poor fellow, and I was careful to take down his name and the address of his family in Ireland, as I always did in similar cases; for I knew how great a consolation it is to Irish fathers and mothers to hear from a Priest that their child died well. He was the son of a small farmer in Meath and his family had heard nothing of him for several years.
The following day, on May 17, Father Bannon followed the retreating army to Vicksburg and encountered the ambulance wagons carrying the wounded and dying. In one of the wagons lay Pvt. McGolfe who by some miracle was still alive.
Whom have you got in there? I asked. "McGolfe," was the reply. What! Is he still alive? I exclaimed, and rode up to the wagon. "Ah, Father, is that you?" The wretched man had neither hand nor foot that he could use. I was delighted to find him still sensible, for my heart rather misgave me about his treatment of the poor German, and I was apprehensive that his dispositions yesterday were not as good as they might have been. My delight was increased when McGolfe went on to say, "I can't help thinking of that poor Yankee. I behaved like a brute to him. He died last night, but after you left him he never stopped saying his prayers, and he prayed like a good one. He made me think, I can tell you. I'm just sorry for the way I treated him, and if you can give me any more penance for it, do. Now if you'll stop by me, I'd like to make my confession again."
And, he began to accuse himself out loud before all the men about, so that I expostulated with him, and told him to speak lower.
"No," he said, "I have been a bad man, and they all know it. I have given bad example, and I want to do some penance for it" - and he continued his confession at the top of his voice. When he had finished, I consoled him, telling him I should give him no penance, for he had done enough. I then gave him the last absolution, and in an hour he was a corpse.

---
Phillip Thomas Tucker is United States Air Force Historian, Air Force Flight Test Center, Edwards Air Force Base, California. The book The Confederacy's Fighting Chaplain: Father John B. Bannon, published by The University of Alabama Press, 1992, is available at Amazon.com.