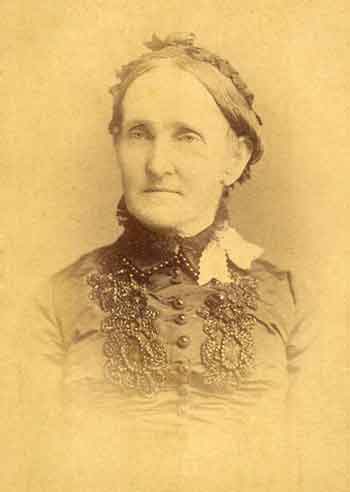 Photograph of Mary Matilda Montgomery Champion
taken circa 1880.
Photograph copyrighted by Sidney Johnson Champion
One of Mississippi's foremost Civil War battlefields is located between Bolton and Edwards where the armies of Grant and Pemberton were engaged on May 16, 1863. The backdrop for the battle was the modest plantation home and hillside property owned by Sidney S. Champion and his wife, Matilda Montgomery Champion, who, at the time, was 35 years old, with four young children.
Neither Sid nor Matilda was home the day the war came to Champion Hill. Sid, an officer with the 28th Mississippi Cavalry, was at Edwards Station with his regiment, guarding the rear approach to Vicksburg, and Matilda, knowing that Grant's army was nearby, had fled during the early morning hours to her parents' home in Madison County. Several days later both would learn the shocking news that a major battle had taken place on their property and that their home was being used as a Union hospital. Most of the furniture had been thrown in the yard and every available table was used to perform amputations.
Matilda returned home on July 2-3 to salvage what she could of her possessions in hopes that she could use them later. But, the hope of returning home faded after she received word around July 7 that her house had been torched by the Yankees. There was nothing left.
Her worst fear came true when Sid was taken prisoner on July 4th and sent to Enterprise to wait for "prisoner exchange". He remained in Enterprise until November 19-20 when the exchange became final. On November 21st, the eve of his 10th wedding anniversary, he returned home and was reunited with Matilda and the children.
During the reorganization of the Confederate army, he took some personal time to settle his family in an area that he considered safe. In pursuit of this goal, he purchased 180 acres of land near Goshen Springs in northwest Rankin County near the Pearl River. The property, situated along the banks of the Fannegusha Creek, was low and swampy, creating a dreary effect and making the planting of crops difficult. It was here that Matilda and her children, all under the age of eight, spent the entire year of 1864, as Sid rejoined his regiment in the campaign for Atlanta.
As the months passed, Matilda became more depressed and despondent. She was poverty stricken and struggled not only to feed and care for the children but also several slaves who remained faithful to her. At the same time she worried that Sid would not live to return home. In a rare moment of weakness she wrote of her love to Sid, "I have thought of you so much since you went to Georgia that I have erased my regrets about our sweet home in Hinds and feel if you can only be spared to me I shall be satisfied. But, oh my God, if I should lose you my precious where should I turn for some one to lean against." Matilda also wrote to Sid reminiscing the happier times in their lives, "Then, all was bright and pleasant before us and during those years we have had much of joy and sadness - we have loved and we have suffered."
Sid also shared his feelings with Matilda as he engaged in the campaign for Georgia, "In passing through various portions of Georgia I am often reminded of our once happy but devastated home by the ruthless vandals of the North. It is seldom I ever mention it in my letters but it will force itself upon my mind and the contemplation of the past forces me to the realization of the fact, 'That a sorrow's crown of sorrow is remembering happier days.'" The lovely quote came from Alfred L. Tennyson, one of Sid's favorite authors. Before closing the letter, Sid added, "We have drunk the bitter dregs and now we have hope - the blessed hope - that a joy's crown of joy is the assurance of happier days. And the present will soon be ours."

Photograph of Sidney Smith III and his mother, Olivia Montgomery Champion, taken around 1903. Olivia was widowed in 1897 when Sid II died of yellow fever. Sid III was born 4 months later. Olivia eventually married Dr. Birdsong of Edwards who raised Sid III as if he were his own son.
Photograph copyrighted by Sidney Johnson Champion.
The dream that Sid and Matilda shared for a happier life was the only thing that kept them going. However, the happier days they longed for would never come nor would their lives ever recover from the losses incurred by the war.
In December of 1864, during the Battle of Murfreesboro, Sid sustained a gunshot wound to the neck and was sent to a hospital in Alabama. After two months leave from the army, he recovered just in time to rejoin his regiment, only to have General Lee surrender to General Grant at Appomattox Court House on April 9, 1865. Exhausted, physically and mentally from the Lost Cause, Sid, a broken man, finally returned home.
They sold the undesirable land in Rankin County and returned to Champion Hill where they built another house a mile west of the original house. Once again, Matilda planted a garden of daffodils, hyacinths, lilacs and roses and attempted to make a happy home but the war had stolen too much from Sid to allow this to happen. Daily, he suffered from disillusions brought about by the war and the knowledge that he had believed in too many things that were not so.
As they attempted to put the past behind them and to plan for the future, a series of tragedies engulfed their lives. The first tragedy came in 1867 with the death of their 8-year-old son, Balfour, who succumbed to a respiratory infection. He was buried in the grove a short distance from the house. A year later, Sid S. Champion, still weakened from the war, developed an acute malignant bilious infection and died after an illness of five days. He was 45 years old. Three decades later, in 1897, tragedy struck again when Matilda's son, Sidney Jr., a state legislator, died at age 36 as a result of the yellow fever epidemic that ravaged Edwards that year. He was buried in the family cemetery with the others who had gone before him. Tragedy struck one last time in 1901. Matilda's only surviving son, Dr. Wallace Champion, a physician in Edwards who had treated many of the yellow fever victims, died at the age of forty-five. Wallace was well known and loved by all of the families who lived in the area.
After so much loss, Matilda's only remaining joy was her grandson, Sidney III, who was born in 1898, only four months after his father died of yellow fever. Matilda remained strong in spite of her losses and eventually became a spokeswoman for the Confederate and Union veterans alike. She embraced the soldiers who came to visit Champion Hill and made lasting friendships with all who came. In 1907, just before her death, she received what she considered to be one of the greatest honors of her life. She was invited to the Dedication of the Illinois Monument as a special guest of the State of Illinois. Dressed in her finest dress, Matilda boarded the train to Vicksburg where, at the dedication ceremony, she was seated among dignitaries representing Illinois.
On December 18, 1907, Matilda, age 80, joined Balfour, Sidney I, Sidney Jr., and Wallace in death. Her grandson, Sidney III, ordered four matching headstones for the cemetery and placed a lovely paling round the graves. Today, in the spring of the year, daffodils and hyacinths bloom in memory of the Champion Family and remind us of Sid's once comforting words to Matilda, "The sorrow's crown of sorrow is in remembering happier days and the joy's crown of joy is the assurance of happier days."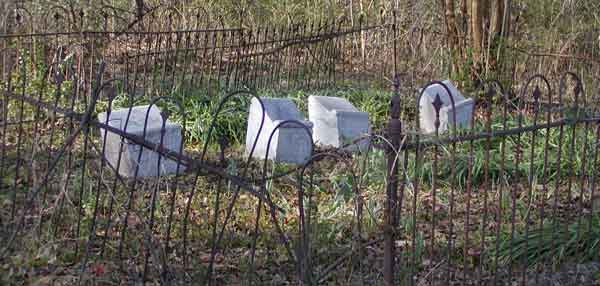 Champion Family Cemetery, established in 1867, is located in the grove only a few feet from the Champion family home. Photograph by Rebecca Blackwell Drake
---
Sidney Champion III inherited approximately 3,000 acres after his father's death in 1897. After Matilda's death, he continued to live on the farm where raised his children and grandchildren. Today Champion Hill is partially owned by Sidney Johnson Champion, the great-great grandson of Sid and Matilda. The book The Civil War Letters of Sid and Matilda Champion, edited by Rebecca Drake and Margie Bearss, will be published in 2005, with proceeds going to the preservation of Matilda Champion's historic house and a portion of the battlefield known as the Hill of Death.