History American Tours Visits
Champion Hill
Rebecca Drake, Ed Bearss and James Drake
On October 2nd, History America Tours, with Historian Guide, Edwin C. Beasrss, visited Champion Hill as a part of a week-long tour "Fighting for the "Gibraltar of the Confederacy." Greeting the bus were Sid Champion and James and Rebecca Drake, board members of the Champion Heritage Foundation. The tour group enjoyed seeing the historic markers, THE CHAMPION HOUSE, set on the site where the Champion's first house was torched by the Yankees in 1863, and the HILL OF DEATH, set on the actual Hill of Death battlefield on the battlefield. Sid Champion V also gave the group a special treat by taking them to the Champion's private property - the site of the Champion Family Cemetery and the Memorial Stone dedicated to Margie Bearss, the Matriarch of Mississippi History, in 2006.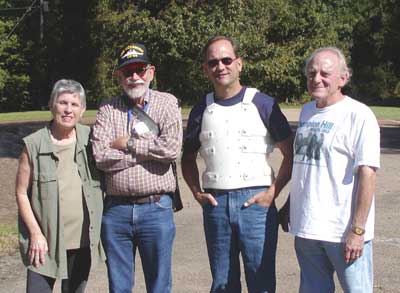 Rebecca Drake, John G. Griffiths, Sid Champion V
and James Drake

One of those touring with the group was of special interest to the crowd. He introduced himself saying, "I'm John G. Griffiths from Fredericksburg, Virginia. My g-g-grandfather was U.S. Grant. John enjoyed seeing the site of the original Champion House which was used as Grant's Headquarters during the May 16th Battle of Champion Hill.
---
| Home | Grant's March | Pemberton's March | Battle of Champion Hill | Order of Battle | Diaries & Accounts |
| Official Records | History | Re-enactments | Book Store | Battlefield Tour | Visitors |
Copyright (c) James and Rebecca Drake, 1998 - 2002. All Rights Reserved.