Lieut. Col. Leonidas Horney
Killed at Champion Hill
By Rebecca Blackwell Drake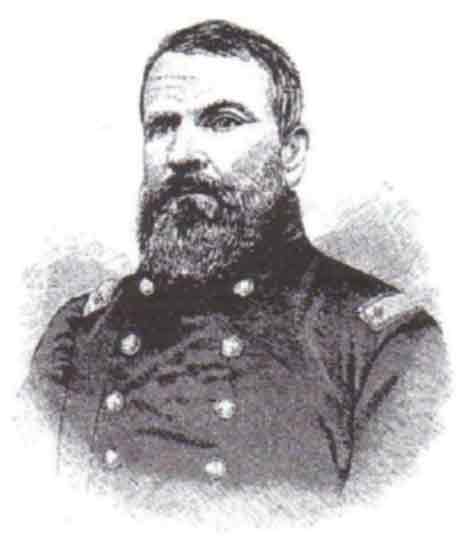 Lieut. Col. Leonidas Horney
10th Missouri Infantry
On February 16, 1866, a funeral procession for Lieut. Col. Leonidas Horney, killed May 16, 1863, during the Battle of Champion Hill, took place in Littleton, Schuyler County, Illinois. A large crowd of citizens came to pay their respects to the fallen hero and to be a part of the patriotic proceedings held posthumously in his honor.
A company of Union veterans and a military band led the half-mile long funeral cortege through town and out to the graveyard. The sad beat of the muffled drums was a reminder of the sacrifice that Col. Horney had made for his country. After arriving at the burial site, the soldiers were drawn up in order and, at the word of command, fired three volleys over the grave. The assembly was then dismissed, the grave filled up and all that was mortal of Col. Horney was left to its last long silent sleep.
Prior to enlisting in the Union army, Leonidas, his wife Jane and their seven children, lived on a large farm outside Littleton, Schuyler County, Illinois. His parents, Samuel and Emilia Horney, lived nearby. In addition to his role as a farmer, Leonidas was well known as the surveyor of Schuyler County, a trade he learned from his father.
When the war broke out in 1861, Leonidas, 44 years old, enlisted in the Union Army. He was over the age of enlistment but his desire to serve his country prevailed. Politically he was opposed to the administration, but he seconded with all his soul its resolution to crush out the traitors, "though it took the last man and the last dollar." Initially, Leonidas had planned to enlist in his home state of Illinois but, due to the vast number of volunteers already enlisted, he traveled to St. Louis and joined Co. A, 10th Missouri Infantry.
In 1862, he was promoted to major and was heavily engaged in the battles of Corinth and Iuka, distinguishing himself by "his fearlessness of danger and great daring." Prior to the Vicksburg Campaign, he was elected lieutenant colonel of the 10th Missouri.
On April 15, 1863, Col. Horney was assigned to the 2nd Brigade, 7th Division of McMcPherson's XVII Corps. On April 30 – May 1st, when Grant finally executed his amphibious crossing from Disharoons' plantation on the west bank of the Mississippi River to Bruinsburg Landing near Port Gibson, Horney was a part of the operations but due to a boat collision during the crossing, his regiment arrived too late to engage in the Battle of Port Gibson. After the Union pocketed the victory, McPherson's corps began marching east, a route which took them through Port Gibson and on to the village of Willow Springs. McPherson made Willow Springs his headquarters but many of the soldiers moved a few miles north to Hankinson's Ferry, a major crossing over the Big Black River leading into Vicksburg. While relaxing at Hankinson's Ferry, Horney took the time to write home to his parents:
Camp on Black River State of Miss1
May 6, 1863
Dear Father and Mother,
I embrace a few minutes of leisure to write you a line to inform you that I am well and hope this may find you all well and prosperous. We have turned all the enemies boasted forts and earth works and have completely surprised them. This has been the greatest surprise they have received during the war. What advantages we may have gained I am not fully prepared to state. Our forces have routed the enemy wherein they have found them.
Our scouts have been across the pontoon bridge2 at this point which the enemy did not have time to injure much - we pushed them so close and it is now repaired as good as ever or nearly so. Our scouts went across and have been out 8 miles and find nothing of any force short of that distance they found the enemies pickets.3 Our forces are stretched along the south bank of Black River from its mouth at Grand Gulf to some considerable distance above this and it is reported in camp that McClernand is marching on Jackson. We are 15 miles from Grand Gulf and 22 from Vicksburg and I should suppose not over 45 from Jackson with good roads in all directions. We can command Black River up over the crossing of the Rail Road from Vicksburg to Jackson4 and that road will be in our possession one day if it is not now. We have been delayed by account of being out of rations but will have plenty for several days up tomorrow. We had only five wagons to each regiment and had to leave them on the other side of the Mississippi River but they are now at Grand Gulf and will bring up rations tomorrow for at least five days. Black River is not as large as I expected but is navigable for good sized boats and, as soon as the obstructions the enemy have placed in it are removed, I suppose boats will be up it.5 Is not a great site wider than Crooked Creek but is very deep.
From accounts we get from the prisoners we have taken the rebel forces are about 35 thousand while we have already whipped 22 thousand of them badly and chased them very hard.6 Our forces around Vicksburg are about 100 thousand besides it is said that our forces from about Corinth and between that and Memphis are moving down at least 50 thousand strong so that if they do not evacuate again, we will certainly bag them this time. I do not know for certain whether we will advance from this point or hold this crossing.7 It is said to be the first point from the mouth of Black River at where an army can be crossed at present. We have fortified a position commanding the bridge we have been……and foraging for all we get to eat except bread coffee & tea. We found thousands of pounds of sugar, bacon, pickled pork and any quantity of splendid molasses. The people have mostly ran and left their houses. They had no time to get their household property provisions away. We found pork and bacon hid in the woods, buried under houses etc.8 We take every thing we want and need whenever we find it, leaving families that have stayed at home enough to feed them sixty days. We picked up a good number of pretty fair horses and any number of Negroes.9 Our ____ soldiers had a large number of them packing their knapsacks and provision but they have been put to work on fortifications and roads.
I feel certain we will have Vicksburg in a few days if they are not heavily reinforced. Even if they are I have no doubt we can cut off their feed and compel them to attack us on ground of our own choosing. I am strongly of the opinion that they will evacuate Vicksburg if they can. I think if things are pushed at every point, as they should be, that the war will soon be ended. We are all getting thoroughly disgusted with slow movements and want to see this war wound up quick. I will send you a number of a paper published at Jackson in this state. I see their papers publish extracts from the Chicago Times which, if they are true extracts, ought to furnish its editor and owner with a passport to leave Illinois and join their Brethren in the South or have their necks unjointed.
From your son L Horney
The letter of May 6 would be the last letter Col. Horney would write home. He continued in the campaign, fighting in the battles of Raymond and Jackson. On the morning of May 16, 1863, his regiment marched to a site between Bolton and Edwards known as Champion Hill where he was killed in battle. The story of Horney's death is best described in his obituary, published in 1866:
"On the 16th, after a severe march of twelve miles, through the excessive heat of that region, they were met by an aid-de-camp in the hot haste, and informed that at Champion Hills, some distance ahead, the enemy were pressing our forces hard and unless speedily relieved, would ruinously defeat them.
"Though tired, hungry, and thirsty, our gallant boys bounded for war, throwing away their blankets, knapsacks, and everything that impeded their march, arriving just in time to find their comrades out of ammunition and retreating in confusion before the exultant foe. Without a moments delay, they rushed upon the advanced herds of treason, at once the tide is turn back, and the Star Spangled Banner again waves triumphant on the field. In all of this Col. Horney's voice was heard, and his presence seen, wherever the fight was severest, encouraging his men.
"The fight being ended, Col. Horney observing a number of men in federal uniform at a short distance, but uncertain whether friend or foe, rode forward to ascertain. He soon discovered what they were, and turned to order his men forward at this moment a volley was fired upon him, and he fell instantly killed, with three balls in his head. Thus perished in the defence of his country, one of her bravest and most patriotic sons."
Approximately three or four weeks after the Battle of Champion Hill, Jane Horney received the letter that the family prayed would never come. A fellow soldier and friend of the colonel penned the letter on May 24th, ten days after the momentous battle.
Camp in the field near Vicksburg Miss
May 24, 1863
Mrs. Jane Horney,
Dear friend it is with a heavy heart I undertake under present circumstances to write you a note to inform you of the death of your husband, Col. Horney, who fell in the battle of Champion Hills (about twenty miles distant, east from here) on the 16th. And, our brigade remains there to bury the dead and to care for the wounded.
On the evening of the 17th we buried Leonidas in as good a coffin as was at hand would admit and under a large tree. Marked the place so there will be no trouble in any of us finding it, should you wish to remove the body. Such is a certain casualty of war & all good soldiers are liable to meet the same fate. All any fellow soldiers can say of him is that in every particular he strove to do his whole duty as an officer, and, as at all times doing all in his power for the comfort of his men.
His death is a source of mourning in the 10th Mo. Reg. by each and every member, and more especially for us who enlisted with him & have ever looked to him for counsel & advice. He will ever live in our memory as a dear friend, and if possible, too, a brave soldier & commander. Be assured you have the sincere sympathy of all of us in your bereavement on account of arduous & constant duty. Since that time I have not been able to write to any one until today. Col. Holmes promised to write to you which I hope he has done before this. If not, I shall remind him of his promise. Major [Francis] Deimling also promises to write to the county papers.
Col. Horney's effects here are being cared for as well as possible. The horse Harbison is attending to. His trunk we have to leave in the wagon where we think it safe. His sword belt & pistol is all put away safely we think & on account of the uncertainty of life here before Vicksburg we put his pocket book & contents amounting to two hundred and eight dollars & fifty five cents also in the trunk. We think of sending all home the first opportunity, and hope to get them to you safely.
... My health is good. So is also nearly all the men that is with us for which we have reason to be thankful, hoping that this may find you & family in good health. I close by wishing you well.
Yours Truly,
Joseph Walker
For three years, Lt. Col. Horney's remains lay beneath the "large tree" on the Champion Hill battlefield. In 1866, Lt. Col. and Mrs. Sid Champion graciously gave the Horney family permission to disinter their loved ones' remains. The colonel was finally returning home. Over the years, the Champions befriended many a visitor, north and south, who came to their door asking permission to visit the battlefield and to search for their deceased.
During the cold of winter, the remains of Col. Horney left Bolton Station en route to Illinois. On February 16, 1866, Lieut. Col Horney was laid to rest in his beloved town of Littleton where he would be remembered by family and friends.
Marilyn Gand, the great-great granddaughter of Col. Horney, commented on the family after the war: "Before the war, Leonidas owned quite a bit of property so, after his death, Jane really had her hands full with 7 children to raise and managing the farm. Fortunately, some of the children were old enough to take on responsibilities, and they did have help from neighbors and other family members. In letters to Jane, Leonidas gave very good advice about the education of his children, what their duties should be, when and what to plant, besides how to handle their finances. Jane must have been a very strong and capable woman. She never remarried and died in 1907 at the age of 83."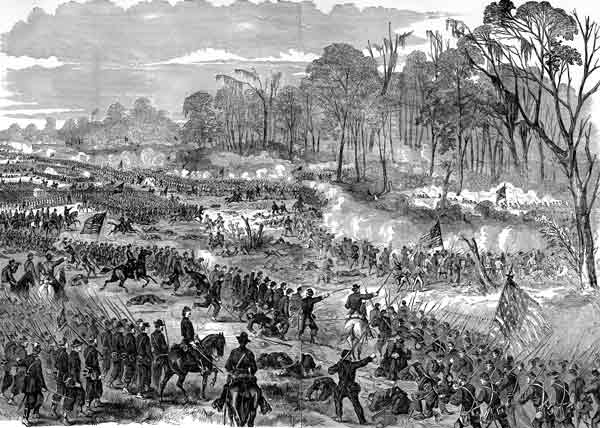 _________________________________________________________

Footnotes:

1. Following the May 1 battle of Port Gibson, the Union army marched approximately eight or ten miles northeast of Port Gibson to a site known as Hankinson's Ferry, a major crossing over the Big Black River leading into Vicksburg. The soldiers rested here from May 3- May 7 before receiving orders to march for Rocky Springs, a site further east on the Natchez Trace.
2. The pontoon bridge Horney referenced had been built by the Confederates at Hankinson's Ferry prior to the battle of Port Gibson. The bridge was used to move the Confederate troops from Vicksburg to Grand Gulf. On the afternoon of May 3, the bridge was captured by the Union army.
3. On May 5, General Grant ordered a scouting expedition on the Warren County side of the Big Black River. The expedition was led by Col. George Boomer. As the men moved northward on the road leading to Vicksburg, they were able to scout enemy territory almost to Redbone Church. After returning, Col. Boomer reported to Grant that the Confederates were on Redbone Ridge, thus aiding Grant in his decision to turn eastward and move toward the Jackson-Vicksburg Railroad.
4. The railroad connecting the capital city of Jackson with the river city of Vicksburg was built 1837-1840. The railroad was originally named the Vicksburg-Jackson Railroad but was later changed to Southern Railroad. The railroad crossing over the Big Black River was located between Bovina and Edwards.
5. The Big Black River, a tributary to the Mississippi River, forms the line which separates Warren County from Claiborne and Hinds Counties. During the Vicksburg Campaign, the Big Black River played a major role for both armies. The railroad bridge near Bovina was burned by the Confederates on May 17, 1863, following their loss at the Big Black. The Yankees built temporary bridges and soon executed the crossing which put them six miles in the rear of Vicksburg.
6. During the battle of Port Gibson, Maj. Gen. John Bowen had a force of 5,500 men. Even with reinforcements, the total number of Confederates south of the Big Black could not have exceeded 10,000.
7. The crossing referred to by Horney was Hankinson's Ferry, located on the Port Gibson -Vicksburg Road north of Willow Springs. This was the first major crossing of the Big Black after traveling eastward from the mouth of the Mississippi River.
8. While marching east of Port Gibson, the union soldiers passed plantations and foraged for food. They passed Col. Benjamin G. Humphrey's plantation, and found eight thousand pounds of hidden bacon. The soldiers impaled the pork on their bayonets and continued marching.
9. As the Union army marched into the heart of Mississippi, they destroyed plantation homes, crops and private property. Slaves were told that they were free to leave, so many of them struck out on their own without knowing where they were going or who would feed them. Many of the newly freed slaves were turned into personal servants by Union officers. Others were put to work doing manual labor. The plight of the Negro during this time was a sad episode in American history, many dying of starvation and disease.
---
Letters edited for clarity by Rebecca B. Drake
Sources: Obituary of Lieut. Col. Horney, 1866, Littleton, Indiana; May 6 and May 24, 1863, letters provided by Mrs. Marilyn Gand, great-great granddaughter of Col. Horney; and Parker Hills, Civil War historian and co-author with Edwin C. Bearss of Receding Tide.