Private James Warren McPherson
Co. B, 10th Iowa Infantry
May 16-20, 1863
The following excerpt is from the memoirs of Pvt. James Warren McPherson
written in 1920 when he was seventy-eight years old.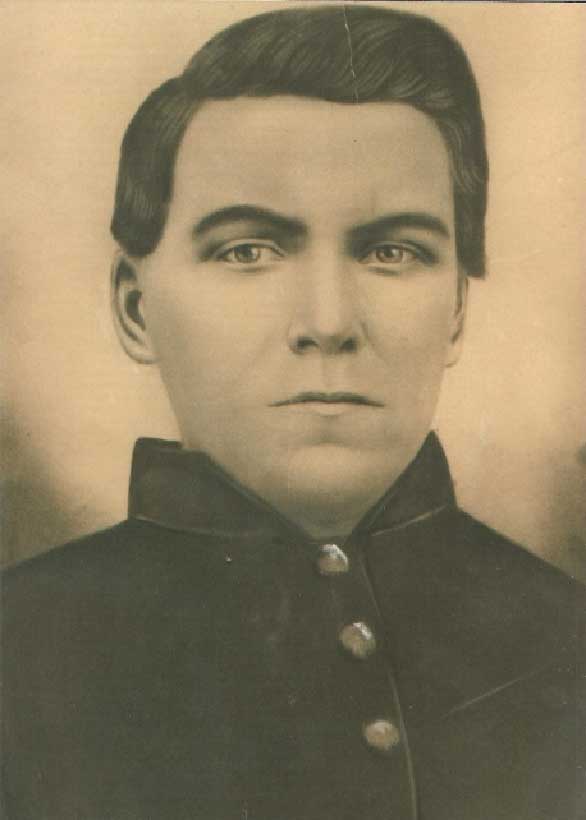 James Warren McPherson
Tenth Iowa Infantry
Photograph Credit: Jean Battles,
granddaughter of James Warren McPherson
Two days brought us to Champion Hill. Hovey's Div. had been fighting all the morning, and we met them on the run. Just a short time before we went into the fight, we had halted for a spell and Gen Grant and Gen McPherson rode up and I heard them talking. McPherson said we are in for a fight, we were drawn up in line and our Captain said now boys if anyone don't want to go in this you can fall out but no one stepped out, but as sick as I was I had better been in bed.
So we were now ordered into the battle of Champion Hill, our regiment on the left of the line 80 rods [1/4 mile] up a hill and commenced firing. I could not see anyone, but I soon found we had a large force of Rebels in our front and they were pouring the lead into our ranks men were dropping all around us. Nine were killed out of our Co. The first few minutes here I met with a providential accident -- my gun failed me and I said to my Lieut, what shall I do? He said get down there and pick powder in the tube. And that is the last I heard of him for years. I met him once since, and I said what did you leave me for [?], He said that he forgot all about me. Why shouldn't he for he was wounded so bad that he was discharged and went home. When I got up I was in the hands of Rebels an Officer said to me drop that gun, but I did not do it but walked to a tree and deliberately set it up against a tree.
I was now a prisoner and with one guard I was marched to the rear, and while on the way this guard commenced to picking the pockets of our dead. I told him to come on and let them dead soldiers alone, and he did as I said, I could easily of killed him if I had a gun.
We were now on the Champion farm and we stopped near there [their] ammunition train. They had picked up over one hundred of our men. While here a canon ball fell near there train then the move came on to Vicksburg. I now had plenty of company.
With one Captain we marched that afternoon 18 miles without any dinner I was very weak as I had Chronic Diarrhea. That night we camped on the Black River just a few miles East of Vicksburg. I cooked some corn meal cakes and some fat Bacon for my supper and turned in for the night all tired out and the same thing in the morning.
We were marched in to town and put in an old house and kept three days on poor food and then paroled until exchanged. We were put over the Miss River. Into our own lines, and believe me I was happy this move saved my life, Thank my Dear Blessed Lord for this providential deliverance. This was on the 20th of May 1863 at Melican's [Milliken's] Bend on the Miss River.
---
The memoir was provided courtesy of Jean Battles, granddaughter and furnished by David Stokes, great-great-grandson of James Warren McPherson.