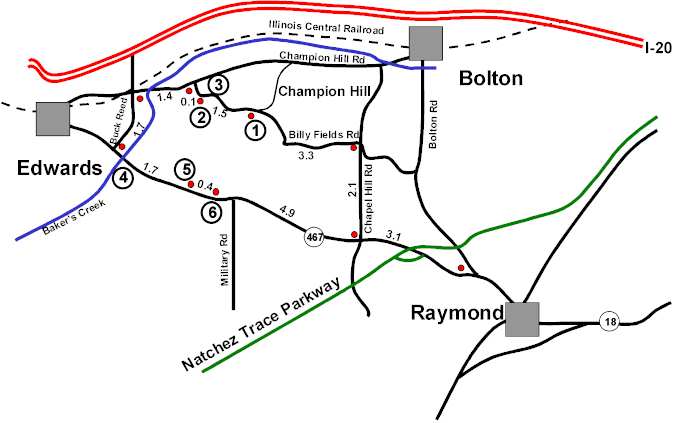 note: mileage is shown between red dots
#1. Historic marker denoting site of the Battle of Champion Hill. The old roadbed (north) led to the Champion House while the Roberts House, another site associated with the battle, was located to the left (south) of the same intersection. Much of the land is still owned by descendants of the Champion family and is private property. Neither home survived the war.
#2 Sunken roadbed can be seen to the left - almost directly across from the Robert's Cemetery.
#3 Roberts family cemetery. It is possible that two slaves of the Robert's family were buried here as well.
#4 Site of the Baker's Creek bridge on the Raymond-Edwards road.
#5 Monument to Brig. Gen. Lloyd Tilghman
#6 Coker House - an old plantation home situated on the old Raymond-Edwards road that was used as a Union Hospital following the Battle of Champion Hill.