Maj. Gen. William W. Loring, C. S. Army, commanding Division.
HEADQUARTERS LORING'S DIVISION,
Near Crystal Springs, May 17, 1863.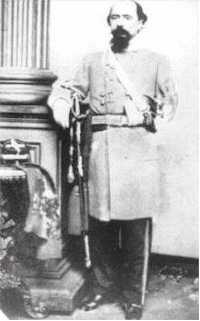 GENERAL: You have probably learned that General Pemberton was compelled yesterday to fall back before a large force of the enemy. I was ordered with my command to hold the rear, to enable the army to make good its retreat. Soon after the order was given, the enemy moved in heavy force against us. We had a bridge and ford to pass to make good their retreat. A brigade was placed at the bridge and one at the ford to protect the crossing, while my division was in the position indicated. General Bowen, in command of the ford, sent word to me that he would hold it, and was requested by me to do so and I would support him, and had ordered a brigade for the purpose. He also sent me word that the bridge was safe. Contrary to the expectation of General Bowen, he was forced suddenly to fall back in the direction of Edwards Depot, consequent upon the enemy's crossing the bridge. The enemy immediately moved to a position commanding the ford in my front. Upon hearing of Bowen's movement, my command was ordered to fall back, the enemy at the same time moving upon my right flank and rear. There was nothing to prevent their soon having commanding positions on both sides of the ford. These movements necessarily forced me to look to a ford lower down the creek, and to reach it had to pass through fields and swamps. We lost what artillery we had with us for the want of a road and bridges. Before reaching the lower ford, I learned the whole force of the enemy had moved to Edwards Depot, and that a large command had passed that day to Big Black, I endeavored to get a competent guide we had to carry us between the enemy's forces to the bridge, but he said it could not be done; it was hazardous in the extreme to attempt the ferries in the face of a large force there. My only means of preventing my division from being overwhelmed was to force my way through the enemy's lines under cover of night and join my forces to yours. We have no baggage-wagons or cooking utensils, and but 40 rounds of ammunition. The wagons of this division were sent back to Edwards Depot.
I hear that the enemy have left Jackson. Upon learning its truth, I shall move a short distance to-morrow after crossing Pearl River.
With respect, your obedient servant,
W. W. LORING,
Major-General, Commanding.

General JOSEPH E. JOHNSTON.

---
HEADQUARTERS,
Camp Forrest, Miss., August 28, 1863.
COLONEL: I have the honor to forward, through you, a detailed statement of the operations of my division at the battle of Baker's Creek and my movements consequent upon it.
On May 13, Major-General Bowen, in command of his division, having reported the enemy advancing, I was ordered to re-enforce him with my division. General Stevenson soon after coming up with his division, a very strong position was selected about 1 mile south of Edwards Depot, our left resting on the railroad and the right not far from Baker's Creek.
On the morning of the 14th, General Pemberton ordered a council of war, in which he read a dispatch from General [Joseph E.] Johnston, which stated in substance that the enemy (two or three divisions) was at Clinton, 9 miles from Jackson, and (if General Pemberton thought it practicable) advised a movement in connection with him, saying that time was all-important. In the council of war there was great diversity of opinion; two generals were for moving at once upon the road to Clinton; two or three were for remaining or moving back; three were for striking at the communications of the enemy, keeping our own open with the bridge over Big Black River, and fighting or not in a position of our own choosing, as would seem best. I understood the opinion of the general commanding to be that he did not approve the move proposed by General Johnston, but coincided with those who were for moving to the enemy's rear.
It was determined by the general to move at 8 o'clock in the morning (15th instant), the army intending to cross Baker's Creek at a ford, which was prevented by its swollen condition. It was, however, put in motion about 3 or 4 p.m., crossing the creek upon a bridge a short distance above the ford. A map was furnished marking the road upon which the army was to march, my division being in the advance. After moving 4: or 5 miles, we were joined by Major [Samuel H.] Lockett, chief engineer, who directed the column to take a cross-road leading to Mrs. Ellison's house, on the middle Raymond road. At this place the army was to have encamped, it having been discovered that the road which it was intended the entire force should follow was wrongly laid down upon the map furnished.
About dark my division reached Mrs. Ellison's, and found a great scarcity of water. This information was at once communicated to General Pemberton, so that he might make some other disposition of the forces which were following. After dark it fortunately happened that the other divisions were still upon the road leading from the bridge and encamped along it in their line of march. It was still more fortunate that my command was upon the middle Raymond road, which led immediately to the ford at which the army was to have crossed in the morning. Upon this road the enemy was in large force within a few miles of my camp. Being satisfied of this from prisoners taken and from observations of several of my staff sent in advance, very large picket forces were placed in my front, rear, and right flank. Completing my dispositions, I soon after met General Pemberton, to whom information of the near proximity of the enemy in large force was given. Additional information was subsequently given him, establishing the fact that he was in our immediate front.
This was the condition of things until 7 or 8 o'clock next morning (16th), when the general informed us that he had a note from General Johnston, advising a junction with him in the direction of Brownsville, his force having fallen back from Jackson. This necessitated a movement toward Edwards Depot. The general then gave an order for the train, which had not come up, to retrace its steps. Pending this, it is said the enemy was in line of battle preparing to attack us. Moving rapidly upon my pickets, he opened a brisk cannonade. I suggested to General Pemberton that the sooner he formed a line of battle the better, as the enemy would very soon be upon us. He at first directed me to form Tilghman's brigade in a line of battle upon the ground it then occupied, but soon thought it untenable, and ordered it, with Featherston's and Buford's brigades (my whole division), into a line of battle on a ridge about three-quarters of a mile in the rear and across a small creek. This line was almost immediately changed for a ridge still farther back, where my artillery was advantageously posted on both sides of the road, the field to the front being entirely open as far as Mrs. Ellison's house. He also directed the division to occupy the road and the country to the right of it, and in orders conveyed to me at different times during the day he instructed me to hold my position, not attacking the enemy unless he attempted to outflank us. Bowen's command was extended so as to join mine on the road. Soon a series of orders came, specifically and with great particularity, for two of my brigades to move to the left, closing the line as often as Bowen moved, and we in this manner followed him.
During this time I received an order to retire, also one to advance, both of which were countermanded. My whole division, including reserves, was strung out in line of battle, mostly in thick timber. The enemy during these movements remained steadily in front in heavy force, being, apparently, a full corps, occupying a series of ridges, wooded, and commanding each other, forming naturally a very strong if not impregnable position, throwing forward a heavy line of skirmishers, and showing every indication of an attack in force upon my position, both in front and upon the right flank. General Bowen also informed me that he thought the enemy was moving to the right.
While these movements were going on (all of which were brought to the general's attention), desultory firing was heard on the extreme left, and General Bowen was summarily ordered in that direction, without warning either to myself or to General Buford, commanding a brigade of my division next to him. Not long after, I was ordered to send a brigade to the left, and General Buford went at double-quick. While passing Bowen, two regiments were detached and went into the fight with that command, Buford continuing on to the left (see his report annexed). In a half to three-quarters of an hour one brigade was ordered to be left on the road, and the other to be taken by myself to the left. This was most earnestly requested to be done by Colonel [W. T.] Withers, in command of the artillery, who feared the capture of his guns. He tells me that he was gratified in being able to state that my force arrived sooner than he expected, and in time to save his artillery. But for our prompt arrival, every piece would have been lost, as the whole sustaining force had, except a few bold skirmishers, been driven back.
Upon the approach of [W. S.] Featherston's brigade, in rapid march, a considerable force of the retreating army having been rallied behind him, the enemy, who was advancing upon the artillery, fell back in great disorder, Colonel Withers pouring in a most destructive fire upon him. It was here that we witnessed a scene ever to be remembered, when the gallant Withers and his brave men, with their fine park of artillery, stood unflinchingly amid a shower of shot and shell the approach of an enemy in overwhelming force, after his supports had been driven back, and trusting that a succoring command would arrive in time to save his batteries, and displaying a degree of courage and determination that calls for the most unqualified admiration.
Upon my arrival upon this part of the field, I found the whole country, on both sides of the road, covered with the fleeing of our army, in many cases in large squads, and, as there was no one endeavoring to rally or direct them, I at once placed my escort under an efficient officer of my staff, with orders to gather up the stragglers and those in retreat away from the road. This duty was performed with great energy and success. It was also determined that under these circumstances it was necessary, in order to save large numbers of men and guns, as well as to be able, in case the emergency should arise, to retire the army in safety and good order to the ford over Baker's Creek, along the only road open to it, that a vigorous and well-directed attack should be made upon the enemy. At this moment I met General [S. D.] Lee and Colonel Withers, and was satisfied, from information obtained from them, that by such an attack upon the enemy's right during the panic which had befallen his center we could overwhelm it, retrieve the day, certainly cut him off from the bridge on our extreme left (of which it was highly important we should hold possession), and save our scattered forces. Dispositions were at once made for the attack, in which General Lee lent a cordial and able assistance. This fine officer, with General [M. E.] Green and portions of their gallant brigades, we found fighting the enemy where all others, except the brave Withers, had been driven back, and contesting every step of the enemy's advancing columns, Green declaring he never would have been driven back but for the fact that he had not a cartridge left. While thus engaged, I received an order for the forces to fall back, and my assistant adjutant-general, who had been dispatched to General Pemberton for orders, returned stating that the general said that the movement must not be made; that I must order a retreat and bring up the rear. Officers were immediately sent to advise those not yet informed to retire, and as rapidly as possible, in the direction of the ford, that being the only road left open. As soon as the enemy realized that we were leaving the field, he rallied and moved forward in heavy force.
In the mean time Featherston's brigade was put into position to protect the rear of the retreating forces and to cover the falling back of Buford's brigade. This duty was ably and gallantly executed. This latter brigade (Buford's) about this time met a charge of the enemy (infantry, cavalry, and artillery), and repulsed him in splendid style with great slaughter, the heavy fighting being done by the Twelfth Louisiana, a large regiment, under the able and daring [T. M.] Scott. This and the gallant [Edward] Goodwin, Thirty-fifth Alabama Regiment, had also distinguished themselves in the charge upon the enemy's center, and about this time the brave Alpheus Baker, of the Fifty-fourth Alabama, was severely wounded in another part the field.
During this time Tilghman, who had been left with his brigade upon the other road, almost immediately after our parting, met a terrible assault of the enemy, and when we rejoined him was carrying on a deadly and most gallant fight. With less than 1,500 effective men he was attacked by from 6,000 to 8,000 of the enemy with a fine park of artillery; but being advantageously posted, he not only held him in cheek, but repulsed him on several occasions, and thus kept open the only line of retreat left to the army. The bold stand of this brigade under the lamented hero saved a large portion of the army.
It is befitting that I should speak of the death of the gallant and accomplished [Lloyd] Tilghman. Quick and bold in the execution of his plans, he fell in the midst of a brigade that loved him well, after repulsing a powerful enemy in deadly fight, struck by a cannon-shot. A brigade wept over the dying hero; alike beautiful as it was touching.
I had some time before this sent an adjutant to General Pemberton and subsequently another to ascertain how his retreating forces were progressing, but having left the field it was impossible to communicate with him. The officer on his return informed me that he had met General Bowen at the ford, who had requested him to say to me, "For God's sake, hold your position until sundown and save the army." He could hold the ford and the bridge was safe. I had scarcely received this message when General Bowen sent me a written communication, stating that the enemy had crossed the bridge and had outflanked him; that he had been compelled precipitately to fall back, and that I must do my best to save my division. I also received a note from Lieut. Col. Jacob Thompson to the same import. We at once made a movement toward the ford, there being no other road of retreat. There being none on my left that I could use, and being wholly unacquainted with the country--my only guide having been taken by General Pemberton to direct him to Big Black Bridge- my first determination was to force my way through by the ford, and rode rapidly to reconnoiter. Arriving there, it was found that our troops were gone, some of whom having been driven back upon us. The enemy's skirmishers were advancing, and a heavy force occupied the commanding ridge across the creek, his artillery playing upon the crossing. The enemy upon our right flank and rear had been re-enforced, so that we were enveloped upon three sides, leaving no road to move upon. Not far from my place of observation I met Dr. Williamson, a highly respectable gentleman of Edwards Depot, who said he knew the whole country, and thought he could take me to a ford on Baker's Creek, 3 or 4 miles below.
By this time darkness was approaching. I at once decided upon this move. By a well-concerted movement we eluded the enemy upon three sides, and to his astonishment made our flank march from between his forces across the fields to a given point in the woods skirting Baker's Creek. The night being dark and the trail a blind one, it was found impossible to get through by following the creek. It was then determined to move across to another road and reach the ford in that direction. My command, being compelled to move back upon the ground where the battle was fought, passed the enemy's campfires, and at times our small parties were near enough to hear them. The unused plantation roads upon which we moved were in such bad condition as to render it impossible to carry our artillery over them, and we were obliged to destroy that which we had with our commands, bringing the horses and harness with us, the balance having gone with the army into Vicksburg. Soon after striking the timber, we discovered Edwards Depot and Withers' gin-house on fire, which convinced us that our forces had passed those points; but as we were led to believe that we could reach the lower ford in 3 or 4 miles, it was hoped that we could pass in between Edwards Depot and Big Black Bridge and rejoin the army. Instead of 3 or 4 it was 10 or 12 miles before my command reached the lower Raymond road which led to the ford, and then it was after midnight. My guide (Dr. Williamson) informed us that it was impossible to guide the division to Big Black Bridge with the enemy in possession of Edwards Depot, which we were convinced he had held for several hours, but referred us to a gentleman by the name of Vaughan, who lived within 1 mile of the road. I went to his house and brought him to the column to consult with my generals, and proposed that he should take us to Big Black River. He declared that it was impossible, as all the lower fords over Baker's Creek were swimming, and that to Big Black Bridge he could not take us without moving through the enemy's lines at Edwards Depot. He also informed us that a large force of the enemy had that day passed by his house. It was known that the enemy had troops at all ferries over Big Black below the mouth of Baker's Creek, and that the river was a deep and difficult stream to cross. The condition of the command was also taken into consideration, being without artillery, with but few rounds of cartridges; having no implements for immediate construction of a bridge or ferry; our entire train having gone into Vicksburg, and being without supplies of any kind; also the distance to the river was so great that it would have been impossible to have reached it until late next day, when the enemy was sure to have been posted to prevent crossing. After a full consultation with my brigadiers, all of us were of the opinion that it was impossible to attempt the passage of Big Black at any point, and in doing so the entire division would certainly be lost. Subsequent events have fully shown that we were right in this determination. It was then determined to force the rear of the enemy between Raymond and Utica.
On the evening of the 17th, my command, after a hard march, reached Crystal Springs, a village on the New Orleans and Jackson Railroad, 25 miles south of Jackson.
On the 19th, reached Jackson with my entire division, few lingering by the way, and immediately reported to General Johnston, who expressed his gratification that my command had safely arrived.
Of Generals Featherston and Buford and Col. A. E. Reynolds, commanding brigades, whose reports are herewith annexed, too much cannot be said in commendation. The rapidity and skill with which they executed their orders, and the boldness with which their gallant commands met and successfully repulsed the powerful attacks of the enemy, delaying the Yankee army and securing a safe retreat to that of ours across the ford, entitles them to the highest praise; and, finally, in lending themselves a sacrifice, enveloped as they were upon three sides (front, right flank, and rear), undismayed, with a proud consciousness of having done their whole duty, they withdrew in good order from under fire in face of the enemy, and thus we were enabled to make the dangerous but successful movement to the left.
My staff--Capt. Henry Robinson, assistant adjutant-general ; Captain [A. A.] Bursley, chief of artillery; Captain [Belton] Mickle, assistant quartermaster; Capt. John D. Myrick ; Lieut. [J.] Hanson Thomas, aide-de-camp; Captain [William] Sykes, aide-de-camp; Capt. Henry de Veuve, assistant engineer; Henry Taylor and William McFarland, volunteer aides; Captain Russell and Dr. Williamson, guides--were continually under fire, and bore themselves, as in other fields, with courage and ability.
With respect, I have the honor to be, your obedient servant,
W. W. LORING,
Major-General, Commanding, &c.
Col. B. S. EWELL,
Assistant Adjutant-General.