Quotes by Matilda Champion,
Wife of Lt. Col. Sid S. Champion, 28th Mississippi Cavalry

From


My Dear Wife: Letters to Matilda ~ the Civil War Letters of Sid and Matilda Champion of Champion Hill, edited by Rebecca B. Drake and Margie R. Bearss, 2005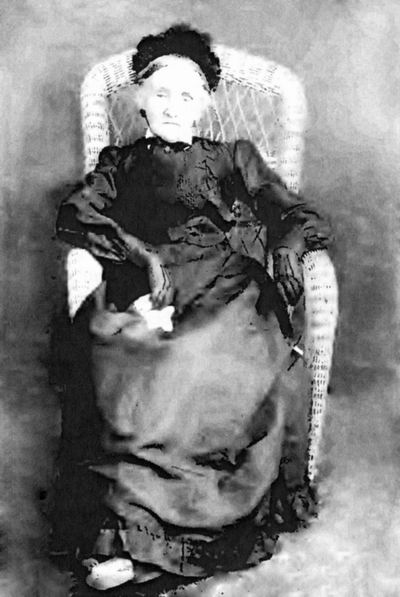 Matilda Champion at age 77
May 30, 1863 (from "Brae Mar", Matilda's parent's plantation home in Madison County)
We are ruined already and I feel now that if I can only keep what I have saved I will be satisfied. And, when this war is over, if ever in my day, if you are spared to me we can begin again….it is a thought that I dare not think upon – that of being homeless and widowed, my children orphans of this terrible cruel war. Yet the thought will present itself and then I am unfit for anything. I could endure hardships and privations provided you were spared to me.
I have always looked on the dark side of this war picture and now I am realizing what the end will be is beyond human comprehension. I feel as though I should never see the end of it and death would be preferable to such an existence.
July 10, 1863, Brae Mar
Well, our beloved Vicksburg has fallen, the city of a Southern heart's pride. Our own Mississippi is now invaded and what is to become of us…I am willing to work, but Oh God, when will this war end and let severed families be reunited?
November 21, 1863, Brae Mar
How I wish you were here with me tonight y husband; so many pleasant memories are passing in review. Tomorrow ten years ago was our bridal day. Then all was bright and pleasant before us – during those years we have had much of joy and sadness – we have loved and we have suffered, and there is much that I would blot from memory's page – but we had made a home and oh how my thoughts love to linger around that lovely spot and I shall remember the happy days we have spent together in that sweet home. I am constrained to say with the poet, 'would those days but come again, with their thorns and flowers. I would give thee hopes of years from those by-gone hours'
All this is dark, so dark that I am almost gloomy – an unusual thing for me you know. The thought that perhaps want and suffering is in store for my little ones. It is horrible to think of and yet it may be so. Ever since the last raid out here, I have felt like I wished to get away in some safe place if such a place exists.
June 13, 1864, Refuge Home in Rankin County
I see no prospect for peace but God can in His good time say to this contending armies as of old to the tempest, 'Peace be Still' and it will be done.' Oh Father hasten the hour. I pray for you as always my dearest and for the coveted blessing. May God in his infinite mercy spare you to me and us to each other is my prayer daily so that we may be a mutual benefit in raising our little ones.
June 24, 1864, Refuge Home
It seems to me the war will never end until all that is dear to us is taken away from us – and then it will be a dreary independence when purchased so dearly. My spirits rise and fall like a thermometer in a southern climate. I see one person and they cheer me up and make me feel as though something would be done directly to end the war. Then I see another – for instance the colonel – and I am down to zero at once looking on the dark side of everything – always down about this war. I dream of you, my precious. My days are one long thought of you.
July 8, 1864, Refuge Home
I have thought of you so much since you went to Georgia that I have erased my regrets about our sweet home in Hinds and feel that if you can only be spared to me I shall be satisfied. But, oh my God, if I should lose you my precious where should I turn for someone to lean against…the subject is too gloomy to think of now and I look to God for his blessing on me and mine and leave it all in His hands for He doeth all things well.
I saw the new moon last evening and gazing on it thinking perhaps, my precious, you were likewise engaged in thinking of wife and little ones – as I thought of you.
April 27, 1865, Refuge Home
Good night my precious. May angels guard your chambers and may some good fortune bring you safely home at an early day.
---
After the war, Sid and Matilda were reunited at Champion Hill. They built a modest home but Sid was not the man he once was. The Georgia campaign had taken too much out of him. His wound [sustained during the Battle of Franklin] kept on hurting. He had drawn too heavily on his spiritual strength and his physical energy. He now knew that he had believed in too many things that were not so. He had no will to live and so an attack of fever carried him away in 1868, a broken old man at 45 years of age.
Sid S. Champion III, grandson
---
| Home | Grant's March | Pemberton's March | Battle of Champion Hill | Order of Battle | Diaries & Accounts | Official Records |
| History | Re-enactments | Book Store | Battlefield Tour | Visitors |

Copyright (c) James and Rebecca Drake, 2014. All Rights Reserved.