Confederate Memorial Stone Dedication
at St. Alban's Episcopal Church
By Rebecca Blackwell Drake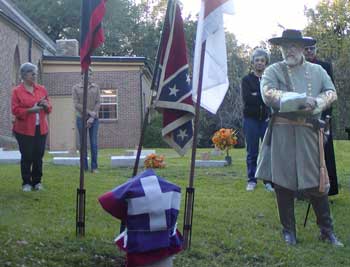 Capt. Mike Beiser, Co. E, 46th Mississippi Infantry, reads the letter written by Sarah F. Bigelow on June 16, 1863
On October 31, 2009, church members, Civil War reenactors, SCV camps, and friends gathered at St. Alban's Episcopal Church at Bovina to dedicate a Confederate headstone for Corporal Robert Hyde Woodson, Co. F, 3rd Missouri Infantry. Woodson died of wounds he received during the May 16th Battle of Champion Hill.
After the battle, as the Confederate army moved back to Vicksburg, Corporal Woodson and four other critically wounded soldiers were left at the Masonic Lodge in Bovina. Here, they were cared for by the women of the town.
As a result of injuries received during the battle, Woodson's leg was amputated above the knee and the leg became infected. He fought to live and his spirits were good but in early June his condition worsened. Corp. Woodson passed away on June 14, 1863, and was buried in the cemetery at St. Alban's Episcopal Church.
Moved by the loss of such a fine young man, Sarah F. Bigelow, one of the women nursing him, penned a letter to Corporal Woodson's mother informing her of her son's death. Mike Beiser, re-enactor, read Mrs. Bigelow's letter to the crowd as many wiped away their tears.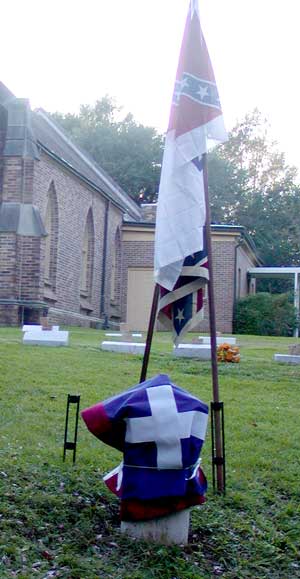 Bovina, Warren County, Mississippi
June 16, 1863.

DEAR MRS. WOODSON,
In addressing you at this time, I fulfill an engagement made a few days since.
On May 16, a battle was fought at Champion Hill in Hinds county (about twelve miles from here) in which your son, Robert Hyde Woodson, was engaged. He was among the wounded, his left leg being so badly injured that amputation above the knee was necessary. The Confederate army was compelled to fall back to Big Black River and then to Vicksburg, ten miles from here. Your son and four other wounded Confederates were left at the Masonic Lodge at this place. It was thought he was doing very well for three weeks, but toward the last he failed rapidly, till finally, nature gave way and, quietly and peacefully, he expired at 10 a. m., June 14, 1863.
I was one of several ladies who visited the hospital daily to render what service we could to our poor wounded soldiers; and all that we could do was done to make them comfortable.
Mrs. Col. Dockery and myself assisted in the care of him the night but one, previous to his death, and other ladies did the next night.
Though so recently come among us, his manly qualities, his patience, gentleness and submission won the respect and admiration of all who met him. When it was thought he could not survive (it being impossible to send for a clergyman) I inquired of him if he was a member of the church, to which he replied that he was not but that he had seriously thought of becoming so; and when asked if he knew he had but little time left on earth, he replied "his trust was in Jesus." He appeared to be perfectly conscious at the time, but too weak to converse much.
I asked him if I should write to you, of whom he had frequently spoken, and what I should say: he could not speak but made an affirmative motion, and several times seemed trying to speak but could not, excepting to say, after I had read some of the prayers for the visitation of the sick, "They are good prayers."
Tearful eyes and sorrowing hearts surrounded his dying bed, and all regretted that one so young and gifted must so soon be a martyr for his country's cause.
His remains lie in our churchyard (Episcopal) near-by, and his grave will be a cherished spot to all who knew him.
That God may comfort you under this afflicting dispensation, is the desire of
Yours very respectfully,

SARAH F. BIGELOW
*AND THUS A NOBEL YOUNG AND GALLANT SOLDIER ENTERED THE "BIVOUC OF THE DEAD.
As the sun was setting and casting a rainbow of colors throughout the historic cemetery, Corporal Robert Woodson's Confederate headstone, draped in a Missouri flag, was unveiled. Reverend Billie Abraham officiated, reading scripture and offering up prayers for the deceased and his family. The re-enactors, Union and Confederate, honored Corporal Woodson with an infantry salute - the sound of gunfire resonating in the night air. Spellbound, the crowd appeared transfixed by the tragic event which happened 146 years ago. As the sun slowly dipped behind the trees and the closing prayers were said, many watched as a tall flowering bush, laden with pink flowers, slowly began to cast some of its delicate petals to the wind. The blossoms drifted to the ground as if to cover the new headstone with a fresh bouquet of flowers.
The moment was magical and brought to mind a poem written by William Forman Dunbar at the close of the war:

O ye, in silent comradeship asleep,
In the long bivouac of the martyred dead,
Ye are not yet forgotten – nor can be
While in this fair magnolia land there blooms
A fragrant flower with which to deck your grave.
Sleep on Corporal Robert Goodson, soldier at rest. For at St. Alban's there will always be flowers with which to deck your grave and the promise that you will not be forgotten.
Union and Confederate infantry salute

Reverend Billie Abraham, St. Alban's Episcopal Church, officiates Memorial Service

Little Drummer Boy

Private Robert Myers, Co. E, 48th Mississippi Infantry, places a Confederate flag beside the Memorial Stone

Captain Charles Tucker, Co. A, 32nd Mississippi Infantry, unveils headstone