Death of General Lloyd Tilghman - The Legend of the "Blood-Leaved Peach"
By Sue Burns Moore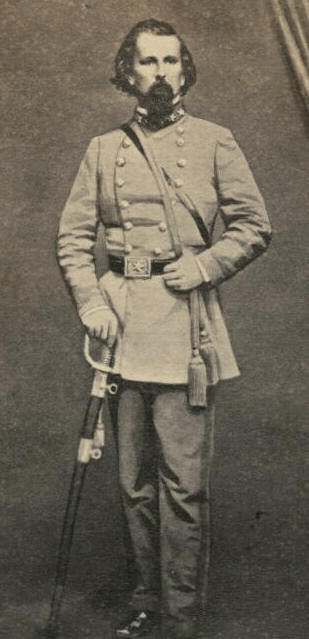 Photo - Digital Public Library of America
"Gen. Lloyd Tilghman…was tall and as straight as an Indian…handsome, and graceful… a noble-looking commander… an old West Pointer, and very fond of fine dress and display."
Perry (Ohio) Journal, Oct. 17, 1896
On a warm spring day, May 16, 1863, Brigadier General Lloyd Tilghman's artillery, composed of the six guns of Capt. James J. Cowan's Company G, First Mississippi Light Artillery, and two guns of Culbertson's Company C, Fourteenth Mississippi Artillery Battalion, held the critical burden of defending the only escape route to Vicksburg open to Pemberton's badly outnumbered Confederates - the ford at Baker's Creek. Tilghman held a strong position, but the Federals pounded the Mississippians relentlessly with shot and shell from their position at the Coker house as the great Battle of Champion Hill raged on. On August 28, 1863, Maj. Gen. William W. Loring, C. S. Army, commanding division wrote the following from his headquarters near Camp Forrest, Mississippi, to Colonel B. S. Ewell, Assistant Adjutant-General:
During this time Tilghman, who had been left with his brigade upon the road, almost immediately after our parting, met a terrible assault of the enemy, and when we rejoined him was carrying on a deadly and most gallant fight. With less than 1,500 effective men he was attacked from by 6,000 to 8,000 of the enemy with a fine park of artillery, but being advantageously posted, he not only held them in check, but repulsed him on several occasions, and this kept open the only line of retreat left to the army. The bold stand of his brigade under the lamented hero saved a large portion of the army. Quick and bold in the execution of his plans, he fell in the midst of a brigade that loved him well, after repulsing a powerful enemy in deadly fight, struck by a cannon-shot. A brigade wept over the dying hero; alike beautiful as it was touching.
Sergeant Edmund Trent Eggleston, originally from Vicksburg and a member of Cowan's battery, recalled what he had seen thirty years earlier in the Confederate Veteran of 1893:
I was an eye-witness to his death. I believe I was the last person he spoke to before he was killed. I was Orderly Sergeant of Capt. James Cowan's Battery, Company G, Col. W. T. Withers' Regiment of Artillery.
General Tilghman came to our position, in an open field, on foot. He was in a particularly good humor. He wore a new fatigue uniform. When he arrived near our guns, our officers were mounted and were in position prescribed for dress parade, each Lieutenant, Geo. H. Tompkins and Thos. J. Hanes, in their positions, and Captain Cowan mounted on a large gray horse, making a conspicuous target for the Federal sharpshooters. We were all tyros [beginners] in war at that time.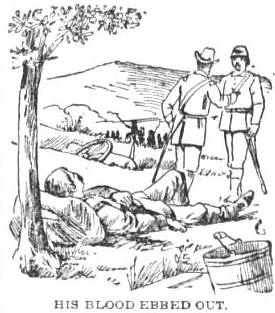 "Artist's concept of Gen. Tilghman's death."
Bay City (Michigan) Times, Dec. 13, 1896
The General in a pleasant manner said to our Captain, "I think you and your Lieutenants had better dismount. They are shooting pretty close to us, and I do not know whether they are shooting at your fine grey horse or my new uniform. They very promptly obeyed the suggestion.
Having to go to his headquarters daily with reports, I had become personally acquainted with the affable, gallant and genial officer. Only a few minutes before his death we were sitting on a log near a strip of woodland discussing the line of battle we then held, comparing it with the one we had shortly before occupied. He got up from the log and went to one of our guns, a 12-pound Napoleon, Corporal "Tommie" Johnson, gunner, and remarked to him, "I think you are shooting rather too high," and sighted the gun himself.
He returned to a little knoll within a few feet of the log on which I was still sitting, and was standing erect, his field glasses to his eyes, watching for the effect of the shot from our gun when he received the fatal wound, not from a "splinter from a shell," however, but from a solid shot. It is true that a horse was killed by the same missile, and I noticed that the horse was dead some time before the General ceased to breathe, though he was unconscious.
It was some little time after the General fell before his son, a youth, could be found, and I shall never forget the touching scene when with grief and lamentations he cast himself on his dying and unconscious father. Those of us who witnessed this distressing scene shed tears of sympathy for the bereaved son and of sorrow for our fallen hero, the chivalrous and beloved Tilghman.
Badly mangled by a parrot shell, the body of Kentucky General Tilghman, age 47, was accompanied to the nearby Yeiser house by his son and aide, Lloyd, Jr., where the general was pronounced dead by surgeons maintaining a makeshift hospital there. As the day closed, the biggest, bloodiest and most important battle of the Vicksburg campaign was lost, and the remaining Confederates retreated into Vicksburg.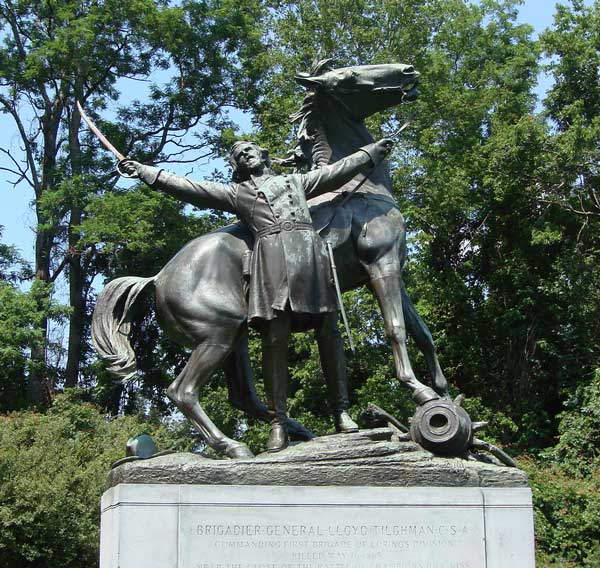 Photo – Sue B. Moore
Monument to Brigadier General Lloyd Tilghman, C. S. A., Vicksburg Military Park
In less than a decade, stories began to emerge in newspapers and gardening journals about an unusual variety of a "blood-leaved" peach in Mississippi. The Gardener's Monthly and Horticultural Advertiser, Vol. 15, 1873, contains this exchange:
Blood Leaf Peach – The variety originated in Mississippi in the sixties and was introduced into the trade in 1871.

Peaches of New York, 1917
History of the Blood-Leaved Peach. By a Lady Subscriber, Vicksburg, Miss. Seeing in the Gardner's Monthly for February a desire expressed to know where the "blood-leaved Gen. Tilghman Peach tree" did spring, I wrote out to Mr. Hebron, at Bovina, for the correct history of it, and I take the liberty of enclosing his reply. I have one of the trees growing finely. It certainly presents a very singular appearance when in bloom, the flowers being very large and nearly white, and the foliage dark red. I enclose a twig. I hope this information may prove as acceptable as it is reliable.
Dear Madam—Your letter was received a few days ago, and in reply I take pleasure in giving you a full statement of the General Tilghman Peach tree. It was found at Champion Hills, in Hinds County (near the spot that Gen. Tilghman was killed) by my nurseryman, Mr. P. I. Connor. Mr. C. belonged to Cowan's Battery, and was present when the General was shot. In 1866, Mr. C. took a stroll over the battle-field, and near by the spot where the General died, in a cluster of briars, this singular peach tree stood. He brought it to my nursery, and it still bears its bloody appearance. Yours very respectfully,
JOHN L. HEBRON
Newspapers all over the country picked up a story on the bizarre peach tree published originally in the Vicksburg Herald. This version appeared in the Hinds County Gazette, Raymond, Miss., May 29, 1872:
The "CRIMSON PEACH TREE" – The Vicksburg Herald gives the annexed "as an incident of the war." When it is remembered that Champion Hill is in Hinds, and that the citizens of this part of the county were all held as prisoners by Grant's army, while the battle was raging, and the guns echoed and re-echoed through this part of the country, carrying dismay to every heart, the incident we judge, will be read with much interest. Says the Herald:

"In the blooming , beautiful , balmy May of 1863, one of those dreadful battle-stained years never to be forgotten, Gen. Tilghman fell shot dead at the battle of Champion Hill, gallantly struggling in defense of his cherished principles. His noble life ebbed away on the spot where he fell, and the sad earth drank his blood with greedy thirstiness. But upon the immediate spot grew a peach tree, that had not reached maturity, while its roots steeped themselves in the martyr's blood. Singular to say, the fruit and leaves of this tree are a blood red color. The tree was transplanted and now is in the orchard of Dr. J. L. Hebron, of this county. The propagations from the tree are of the same peculiar color. There is something very peculiar about this. We have seen the leaves, and must confess that they do look, and even (to us), smell like blood. The fact can be witnessed by those taking the trouble."
A similar story that originated in Fort Donelson, Kentucky, tells of "a Southern general" fatally wounded, sucking the juice from a peach, and tossing the seed into a puddle of his blood from which seed sprang the peach tree with the blood leaves. However, The Peaches of New York, describes the blood-leaved peach variety, and after discussing the two versions of the strange origin story settles the matter, stating, "Leaving fable and coming to facts, we find that the variety originated in Mississippi in the sixties and was introduced into the trade in 1871."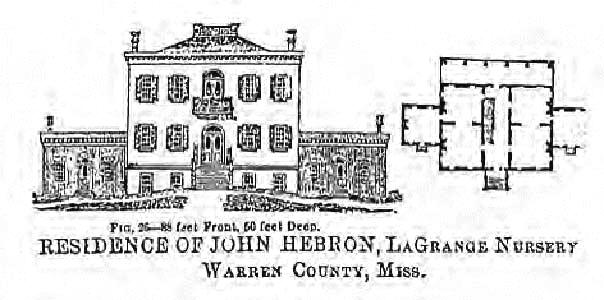 Drawing - Lost Mansions of Mississippi, Mary Carol Miller
The Hebron nursery where the blood-leaved Tilghman peach was first propagated was located at Bovina in Warren County, to the rear of Vicksburg. Dr. J. L. Hebron, a surgeon in the Confederate army and later a Mississippi State Representative, was the son and heir of the original owner, his father, Col. John Hebron of LaGrange Plantation. A biographical note in The Papers of Jefferson Davis, Volume 2, gives this account of the operation: "By the mid-1850's Hebron was probably the largest commercial fruit grower in the lower Mississippi valley. The Vicksburg Tri-Weekly Whig of June 12, 1855, reported that he had an orchard of 82,000 fruit trees, including the world's biggest pear orchard." Near the time his death, Col. John Hebron advertised in the Memphis Daily Appeal of January 25, 1862: "The Largest Orchard and Nurseries in the South! Two Hundred Acres in Fruit Trees and Fifty in Nurseries. I have for sale at the LaGrange Nurseries, Warren county, Mississippi - 70,000 Pear Trees, 70,000 Apple Trees, 70,000 Peach Trees."
Perhaps for a time during Reconstruction, the advent of "new" blood-leaved Tilghman peach, helped Dr. Hebron recoup some of his losses from the destruction that Hebron orchard sustained during the Vicksburg Campaign and afterwards in 1864 as 2500 Federal cavalry troops encamped among the fruit trees, helping themselves to produce and firewood. But, according to Hebron descendant and author, John Hebron Moore, "Because Hebron's planter customers had been impoverished by the war and the abolition of slavery… Dr. Hebron found few purchasers for young fruit trees. Eventually most of the land was sold to defray indebtedness, and the nursery went out of business."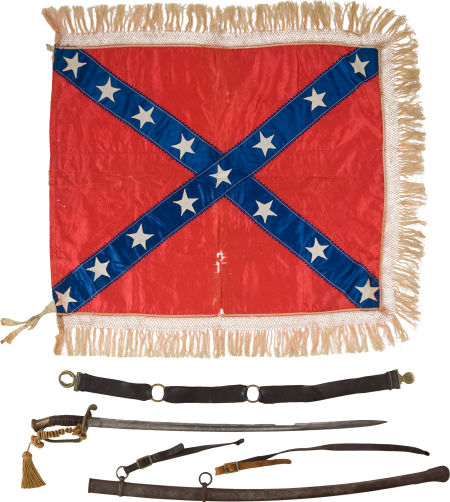 Gen. Tilghman's presentation flag, his sword and sword belt that he was wearing when he was killed in the Battle of Champion Hill, offered by the family for sale at a Heritage Auctions sale in Dallas in 2010, brought nearly $60,000.
___________________________________________________
SOURCES:
Allardice, Bruce S. and Lawrence L. Hewitt. Kentuckians in Gray: Confederate Generals and Field Officers of the Bluegrass State. Lexington: University Press of Kentucky, 2008.
Davis, Jefferson and James T. McIntosh. The Papers of Jefferson Davis, Vol. 2: June 1841-July 1846. Baton Rouge: LSU Press, 1971.
Hedrick, U. P. The Peaches of New York. Albany: J. B. Lyon Company, printers, 1917.
Loring, William Wing, 1818-1886. Report of Major General Loring: of Battle of Baker's Creek, And Subsequent Movements of His Command. Richmond: R. M. Smith, public printer, 1864.
Moore, John Hebron. "John Hebron of Lagrange Plantation: Commercial Fruit Grower of the Old South," Journal of Mississippi History, Vol XLVI, No. 4, Nov. 1984.
O'Reilly, Carolyn A. The Lady of Court Square: The Biography of Eva Caroline Whitaker Davis. Privately published by the author, 2007.
Rowland, Dunbar, ed. Official and Statistical Register of the State of Mississippi. Nashville: The Brandon Printing Co., 1904.
United Confederate Veterans, United Daughters of the Confederacy, Sons of Confederate Veterans (Organization), and Confederated Southern Memorial Association (U.S.). Confederate Veteran: Published Monthly In the Interest of Confederate Veterans And Kindred Topics, Vol. 1. Wilmington, N.C.: Broadfoot Pub. Co., 1893.
United States. War Department. The War of the Rebellion: a Compilation of the Official Records of the Union And Confederate Armies, ser.1:v.24:p t.3.Washington: Govt. print. off., 1889.
Warren County, Mississippi. Probate Court Records. Will Book A, "Last Will and Testament of John Hebron."