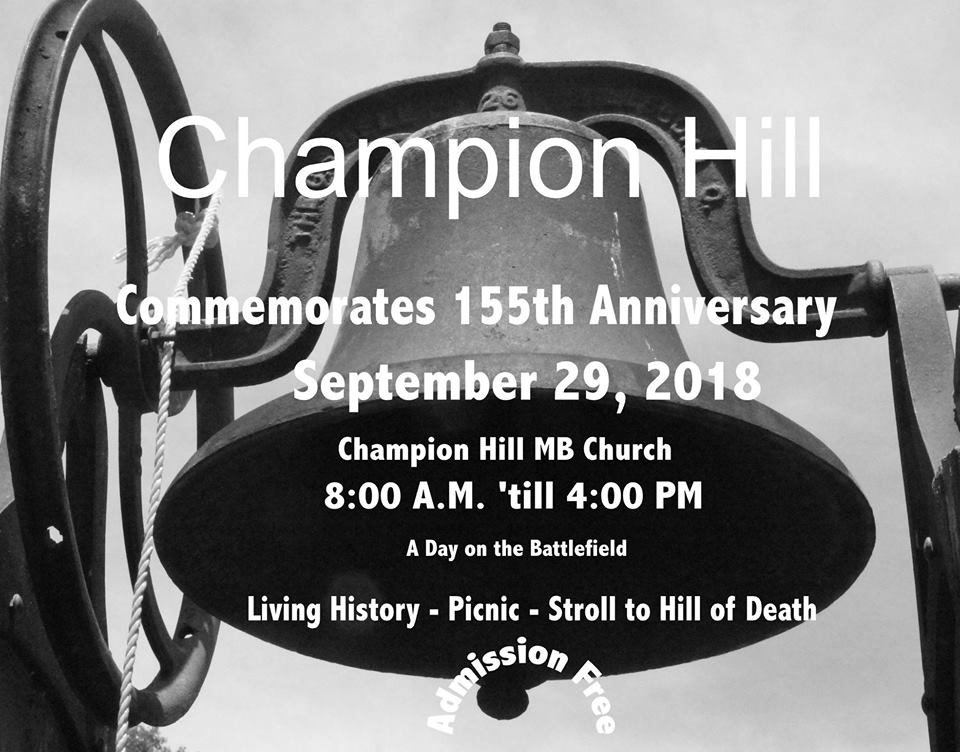 ---
Bowen's Counter Attack
Historic Marker Placed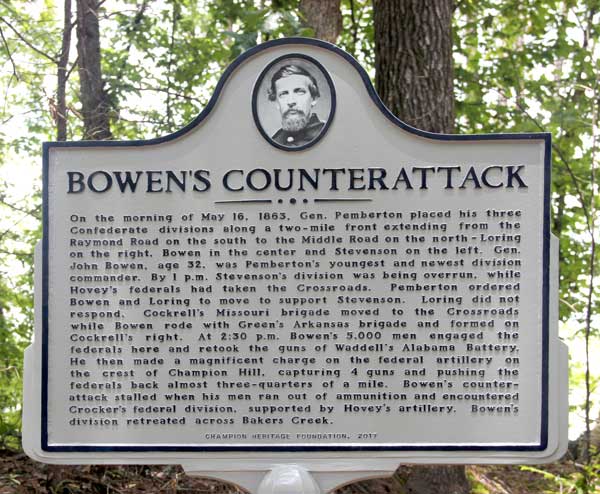 The new historic marker, "Bowen's Counterattack" has been permanently placed at the Crossroads within sight of the 2013 marker, "The Fight for the Crossroads." To date the Champion Heritage Foundation has placed nine historic markers on the battlefield.
---
Lt. S. E. M. Underhill
Aide-de-camp to
Brigadier General Stephen D. Lee
From the Guernsey Times (Cambridge, Ohio),
August 20, 1863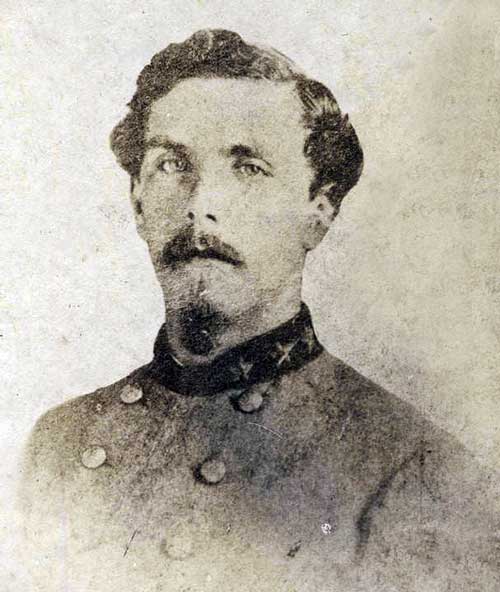 This extraordinary letter, written by former English army officer Stephen E.M. Underhill to his mother in Coldstream, Scotland in the waning days of the siege of Vicksburg, gives a lengthy account of Underhill's experiences during the Vicksburg campaign while serving as an aide-de-camp to Brigadier General Stephen D. Lee. The 21-year-old Underhill resigned his commission in the British army and entered the Confederacy through the blockade at Charleston, South Carolina in January 1863, journeyed to Mississippi and gained an appointment to Lee's staff. Underhill gained favorable notice from Lee for his "gallantry and efficient service" during the campaign and following his parole at Vicksburg, he was commissioned as a first lieutenant of cavalry and eventually became colonel of the 65th Alabama Infantry.
---
Reports on Champion Hill Battle
& Vicksburg Siege
By Sue Burns Moore
In her beautiful Vicksburg home located in the heart of the town, next door to Confederate General Pemberton's Headquarters in the Willis-Cowan House, Mrs. Emma Balfour, wife of Dr. William T. Balfour, began her diary on Saturday, May 16, 1863, the day of the Battle of Champion Hill, with the words, "All has been uncertainty and suspense."
---
Death of General Lloyd Tilghman: The Legend of the "Blood-Leaved Peach"
By Sue Burns Moore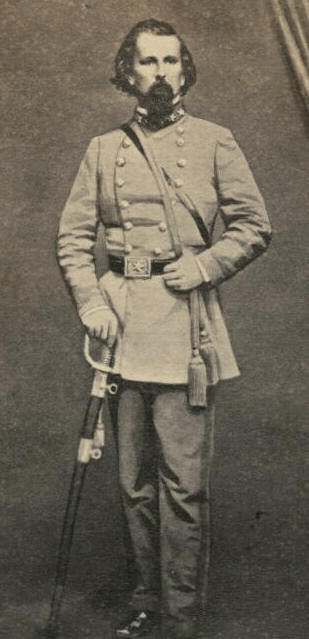 Photo - Digital Public Library of America
On a warm spring day, May 16, 1863, Brigadier General Lloyd Tilghman's artillery, composed of the six guns of Capt. James J. Cowan's Company G, First Mississippi Light Artillery, and two guns of Culbertson's Company C, Fourteenth Mississippi Artillery Battalion, held the critical burden of defending the only escape route to Vicksburg open to Pemberton's badly outnumbered Confederates --- the ford at Baker's Creek. Tilghman held a strong position, but the Federals pounded the Mississippians relentlessly with shot and shell from their position at the Coker house as the great Battle of Champion Hill raged on.
---
Captain William A. Montgomery's Company of Mississippi Scouts
By Sue Burns Moore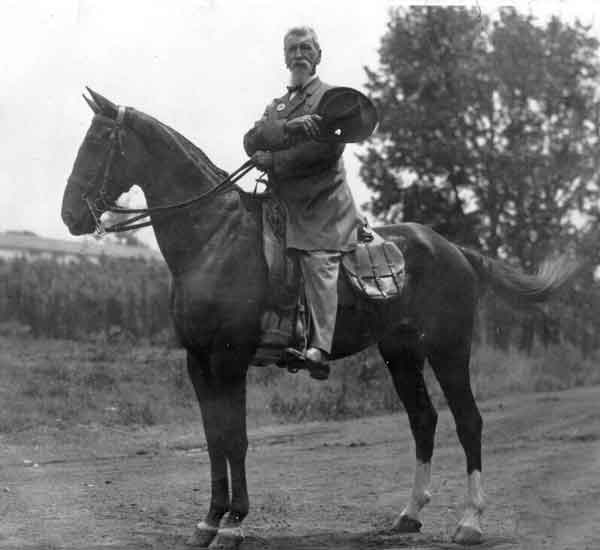 RECORDS OF EVENTS AND MUSTER ROLL OF
CAPT. MONTGOMERY'S COMPANY OF SCOUTS
Company Report for Oct. 27, 1862 to June 12, 1863, shows station of company, Camp on Bogue Phalia, Bolivar Co., Miss. Record of Events: "On Friday the 20th day of February lost a small portion of the Company under command of Capt. Herndon, had a skirmish with a small party of Federal troops at the house of Col. F. A. Montgomery, near the Mississippi River in Bolivar County. After skirmishing for about one hour the federals reinforced by several companies from their boats, lying about one mile below; when Capt. H. with his command, fell back in good order. No one was hurt on our side. Federal loss one man killed & two wounded."
---
Capt. Alexander W. Geddes
Co. A, 118th Illinois Vol. Infantry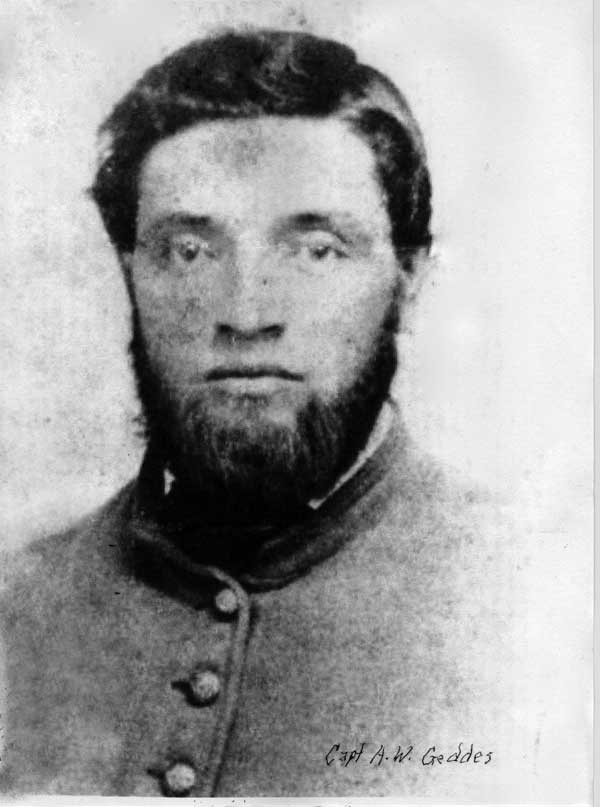 Alexander Geddes and his younger brother, Cyrus M. Geddes, enlisted in the Union Army after President Lincoln called for volunteers.
During the May 16, 1863, Battle of Champion Hill the brothers fought in the Ninth Division (Brig. Gen. Peter Osterhaus), First Brigade (Col. John Fonda.) Two men from the 118th were killed that day - Capt. Alexander Geddes, age 33, and Lt. Thomas White.
Information provided by Allan M. Geddes,
great-nephew, Mediapolis, IA.
---
Diary of Wesley Olin Connor
Cherokee Artillery, CSA
Cave Spring, Georgia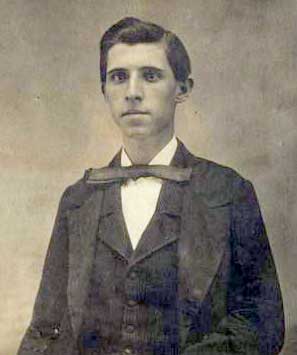 Champion Hill, Saturday May 16. 11 o'clock, we were ordered into position on that portion of the line parallel with the railroad. Moved round and found General Stevenson's division hotly engaged. Some of the Alabama regiments had already given back, came into position in a field to the left of the division within six hundred yards of a Yankee battery of Napoleon guns. We fired fifteen or twenty rounds from each gun, but it was hot work. Shot, shell and shrapnel flew thick and fast around us. Here fell Hutchens, killed, and Lumpkin and Anthony mortally wounded.
---
I Was There: The Battle of Champion Hill
By Bertha Lewis
A Memorial Poem
---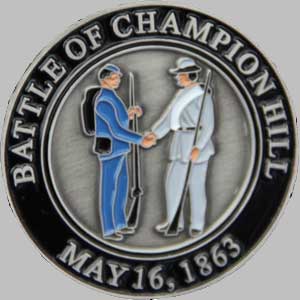 Medallion Honoring
The Soldiers Who Fought
Medallions are now available for purchase by the public.
Plain Medallions ~ $20
Medallions in presentation boxes or on plastic presentation stands ~ $25
Send a check payable to the Champion Heritage Foundation,
Rebecca B. Drake
P.O. Box 336
Raymond, MS 39154
---
Champion Hill Tours
With Sid Champion V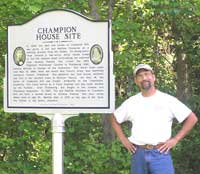 The Cross Roads
Old Jackson Road
The Hill of Death
Original House Site & Historic Marker
Midway Station
Family Cemetery and Memorabilia
Margie Bearss Memorial
$100 per person (minimum of 2)
Call 601-316-4894
<click for more
and tourists comments>
---
LEAVES
The Diary of Elizabeth Meade Ingraham
The Rebel Sister of
General George Meade
By Rebecca B. Drake & Sue B. Moore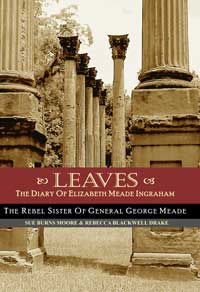 ---
Collected Stories of the Vicksburg Campaign
By Rebecca Drake and Margie Bearss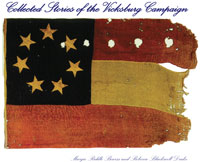 ---
Darwina's Diary: A View of Champion Hill ~ 1865
Edited By
Rebecca Drake and Margie Bearss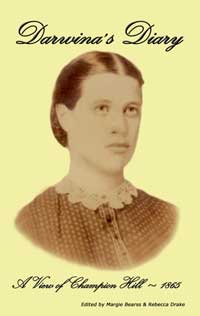 ---
My Dear Wife ~
Letters to Matilda
The Civil War Letters of Sid and Matilda Champion
By Rebecca Drake and Margie Bearss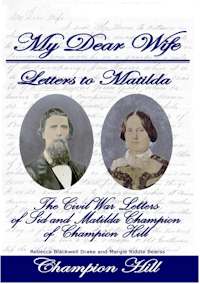 ---